The Motorola Moto 360 is probably the best looking smartwatch out there right now. In all design aspects, it looks much better than the Apple Watch. However, the Moto 360 runs Android Wear and iOS doesn't support that, which means you cannot use it with an iPhone. Until now!
A Cydia developer named Mohammad Abu-Garbeyyeh, who also developes for Android, has managed to make the Moto 360 work with the iPhone.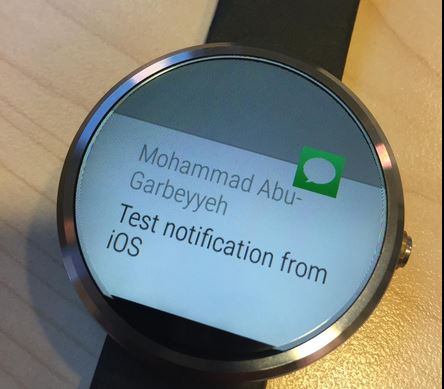 Don't get too excited though, as right now, the Moto 360 only shows iOS notifications, but doesn't let you interact with them. According to the developer, it wasn't very difficult to get the Android Wear device to work with the iPhone. A simple APK install on the Android Wear device and you're all set to receive iOS notifications.
The notifications are received on the Android Wear device using the Apple Notification Center Service, or ANCS. This service lets Bluetooth supported devices to receive notifications from iOS. Prior to this advancement, the developer had to use an Android device to make this happen, but has now gotten rid of that medium.
The best part is that you don't need to have a jailbroken iPhone and nor do you need to gain root access on the Android Wear device. It's a direct notification delivery system that just works. Watch the short video below to see how it works:
But that's just it, you can't do anything with the notification and Apple is not going to allow an app that works with an Android Wear smartwatch. Perhaps the developer can come up with a jailbreak tweak that makes a two way connection possible and allows for interaction with notifications and more. Who wouldn't want to use the Moto 360? It's gorgeous!