Along with the iPhone 6 and the iPhone 6 Plus that Apple announced earlier today, the company also stepped into the smartwatch industry by unveiling the Apple Watch. Nope, not the iWatch, just Apple Watch.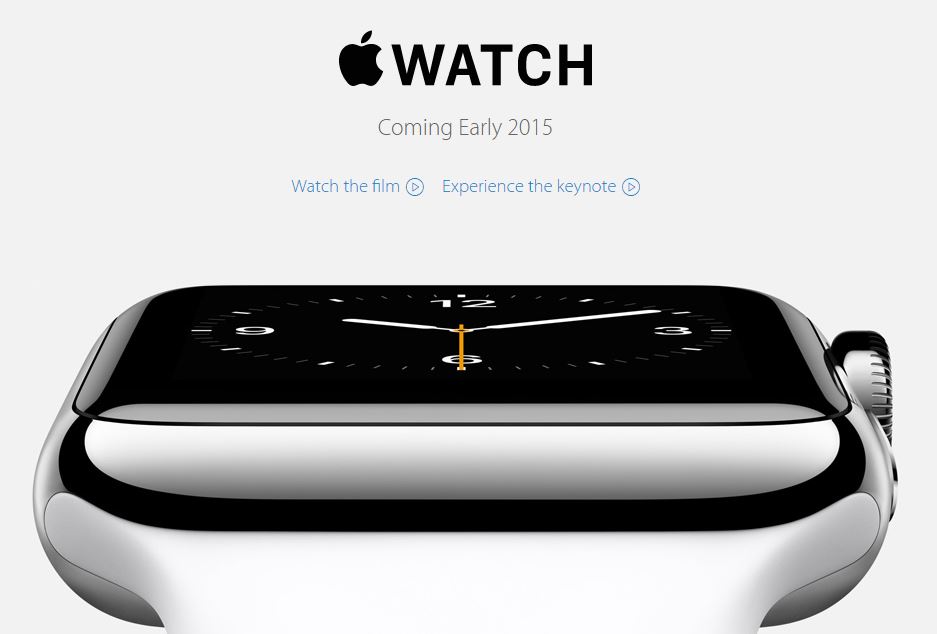 Like all the rumors, leaks and reports, the Apple Watch is indeed a rectangular device that comes in two sizes (38 mm and 42 mm height), multiple straps/colors and three models. The Apple Watch will require an iPhone to work properly and it features plenty of sensors for health, fitness and other watch related stuff. It comes with a rectangular bezel and a square display that curves at the edges, just as rumored. There's a touchscreen and the display is protected by Sapphire glass, however, the primary interface controller is the crown on the watch.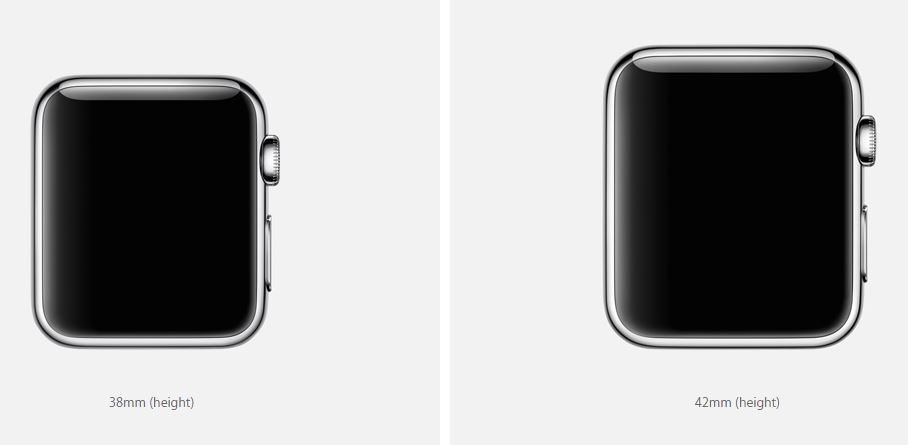 You can choose between three models, namely, the Apple Watch, Watch Sport and Watch Edition. The Watch Sport features an Ion strengthened glass instead of Sapphire and the Watch Edition features a 18 karat gold casing.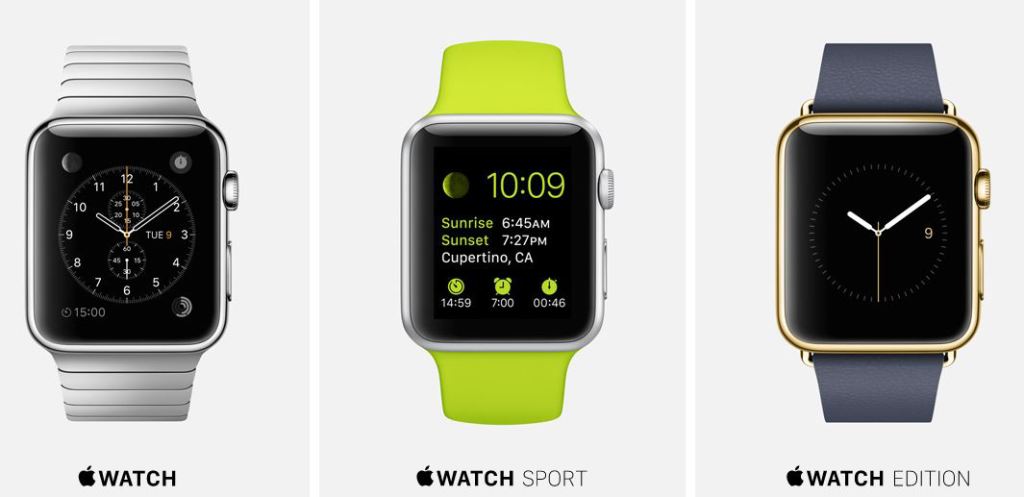 Apple is calling the crown 'digital crown' and it is used to navigate around the Watch. Press the crown and you'll be taken to the Homescreen from any app and you can customize the crown to zoom in and out of Maps, Photos etc. Raising your wrist will turn on the display and you can interact with notifications that are displayed on the touchscreen by tapping, swiping and something known as Force Touch. Another button placed below the digital crown gives your quick access to your favorite contacts. It's a brand new interface and will confuse new adopters!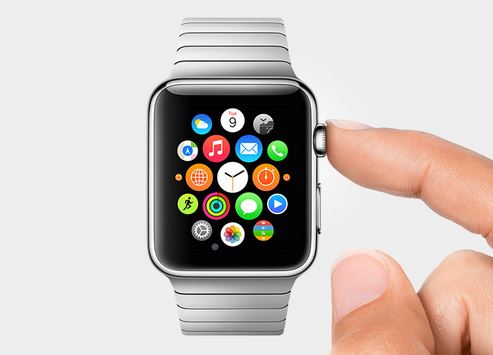 The Apple Watch has a heart rate sensor, accelerometer and uses the GPS on your phone for health and fitness data. It also features a new Taptic Engine that produces a subtle vibration, similar to a tap on your wrist, to let you know of notifications. You can respond to these notifications using Touch or Voice, sorry, there is no keyboard. A new 'Glance' feature lets you view recent notifications via a Slide up gesture. The Watch can communicate with other Watches with drawings, Walkie-talkie, tap and heart beat. There's also a speaker and a microphone to make or answer calls and chat in case your iPhone is far away and you're feeling lazy.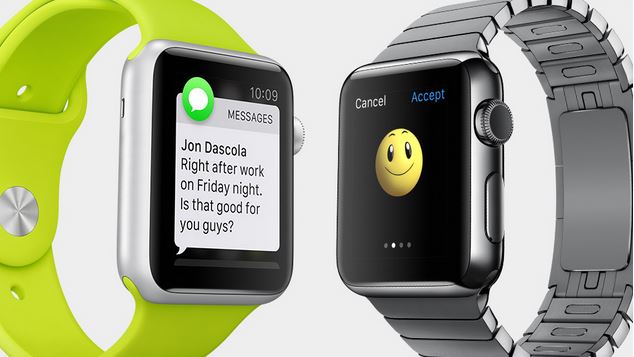 There are plenty of watch faces and straps to choose from that are also customizable to match your personal taste. The different types of straps include Link Bracelet, Sport Band, Leather loop, Classic Buckle, Modern Buckle and Milanese loop. The Apple Watch comes in six different casings/color that are made of Stainless Steel, Silver Aluminum, 18 karat Yellow Gold, Space Black Stainless Steel, Space Gray Aluminum and 18 carat Rose Gold.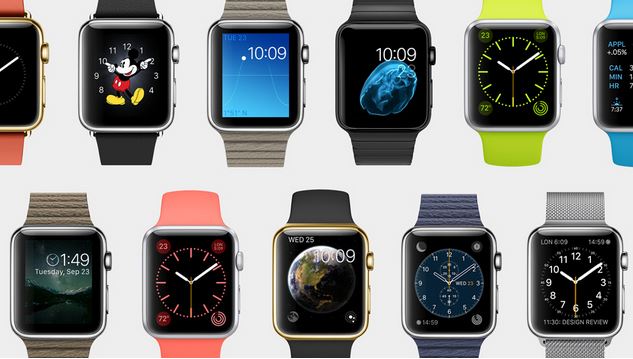 Siri has been given an important role! You can control and do a lot of tasks using just Siri. To use Siri, you'll simply have to raise your wrist and say 'Hey, Siri' or press and hold the Digital Crown. With Siri, you can access your daily calendar, look up information, use navigation with Maps, reply to Messages and a lot more.
Not much details were given about what kind of hardware the Apple Watch uses, however, it runs on a chip known as S1. The display on the watch is of Retina quality, but we're not sure of the resolution. You can also use the display as a viewfinder for the camera on your iPhone.
As for the battery life and capacity, Apple didn't mention anything other than saying that the Apple Watch will use a MagSafe adapter that will attach to the back of the device. So, wireless inductive charging it is!
In short, the Apple Watch will be available in two sizes, three models and comes with a plethora of straps and casings. Apple has announced that the Apple Watch will be available in early 2015 starting at $349. Since the Apple Watch requires an iPhone to function, it supports the iPhone 5, 5c, 5s, 6 and 6 Plus. It'll also come with several third-party apps and can be used for making payments using Apple Pay.
So, what do you think of the Apple Watch? Do you like the design and the features?