We've already seen how iOS 8.1.2 runs on the ageing iPhone 4s, so how will Apple's latest iOS 8.1.3 firmware fare. Apple released iOS 8.1.3 to the public last week and patched the TaiG jailbreak. It also brought some performance improvements to older iOS devices. Hence, it's time to find out if iOS 8.1.3 is any better than iOS 8.1.2 on the iPhone 4s.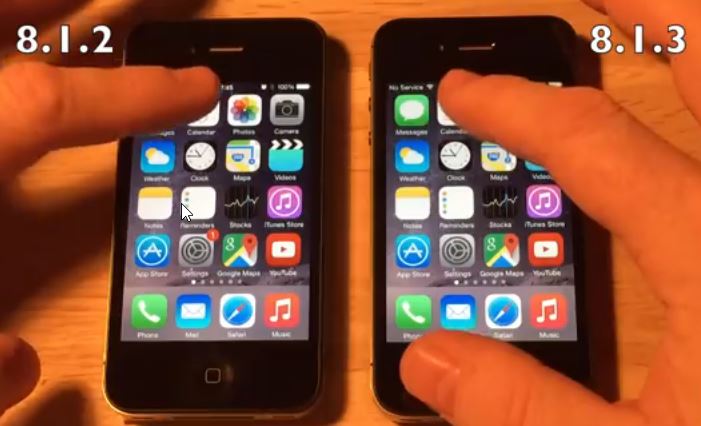 As you all know by now, the iPhone 4s will not be getting any new firmware updates after iOS 8.x. So, it is crucial for Apple to give iPhone 4s users the best possible performance out of iOS 8. YouTuber Kabriolett has once again compared iOS 8.1.2 and iOS 8.1.3 running on the iPhone 4s, to see if the latter performs any better. In his previous video, he compared iOS 8.1.2 with iOS 8.2 beta, which as it turns out, provides slight improvement in performance and gets rid of some lag in the interface, animations etc.
In this video, it can be seen that iOS 8.1.3 was more of a patch-the-jailbreak-exploits update. You can't really notice much of a difference between the two devices. Yes, some apps launch faster, some actions run quicker, the animations are slightly better and apps load a fraction of a second faster. You can watch the full video below and see for yourself:
Notice how the battery drained faster on the iPhone 4s running iOS 8.1.3? Also, the Geekbench score of the iPhone 4s running iOS 8.1.2 was 1 point better than iOS 8.1.3. Is Apple really working on improving the experience for iPhone 4s users or have they given up?
What do you think? Have you updated to iOS 8.1.3 on your iPhone 4s? Do you see any improvements?