Apple has unexpectedly seeded a new version of iOS to the iPhone 5 today bringing about iOS version 6.1.4 into the wild. The iOS 6.1.4 firmware can be downloaded through the software update section in the Settings app and is available for both the GSM and CDMA versions of the iPhone 5.
The golden question that is probably on your mind is, "what is new in iOS 6.1.4?" Well, nothing exciting unfortunately. iOS 6.1.4 simply brings about an updated audio profile for the speakerphone. The firmware has a build number of 10B350 and  is an 11.5-megabyte download. There were no betas provided to developers prior to the update, so it is just a quick fix from Apple.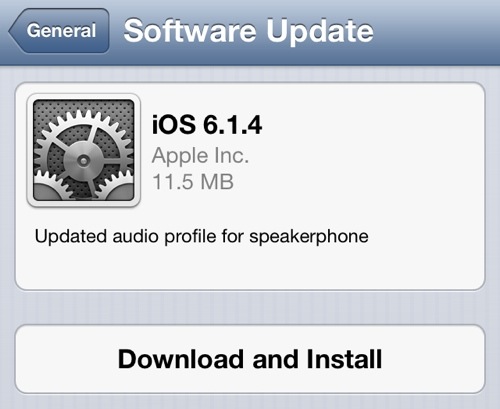 This will likely be one of the last software updates we see from Apple before the unveiling of iOS 7 at the WWDC 2013. iOS 7 is expected to be a dramatic overhaul of iOS and will bring about a flatter design overall.
As mentioned previously, you can update your iPhone 5 if it isn't Jailbroken through the Settings app or by using one of the download links shown below.
Download iOS 6.1.4 for iPhone 5 (GSM)
Download iOS 6.1.4 for iPhone 5 (CDMA)
Obviously iOS 6.1.4 is not Jailbreak safe, so do not update your iPhone 5 if you want to maintain your Jailbreak. A5 devices and above cannot even be Jailbroken tethered so you will be stranded for who knows how long. You have been warned.