Last week iH8Sn0w and Winocm released a Cydia package by the name of P0sixpwn that allowed A4 devices to be Jailbroken Untethered from iOS 6.1.3 to 6.1.5. The only kicker was that it required you to be pre-Jailbroken utilizing software like RedSn0w or Sn0wbreeze. It was also incompatible with newer devices with an A5 chip and above.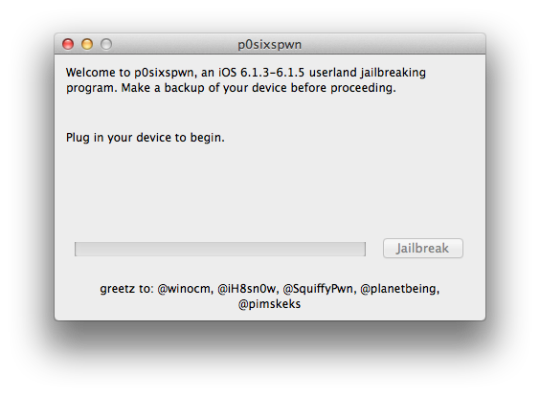 Today, however, P0sixpwn has been made into an official tool and allows you to Jailbreak the iOS 6.1.3, 6.1.5 and 6.1.5 firmware Untethered on all iOS Devices. This means if you purposely stuck on one of the latest 6.1.x firmwares because you either dislike the aesthetics of for performance reasons you will now finally be able to Jailbreak.
P0sixpwn is compatible with both Windows and Mac OSX and was developed by Winocm, iH8Sn0w, SquiffyPwn, Planetbeing and Pimskeks.
Download P0sixpwn For Mac / Windows
You can download P0sixpwn from the official website, the iJailbreak Downloads Section, or from the direct download links shown below:
Download P0sixpwn for Mac OS X
Download P0sixpwn for Windows
Learn how to Jailbreak your iPhone, iPod Touch or iPad on 6.1.3 to 6.1.5 Untethered by following our official how to guide and let us know if you will be Jailbreaking with Posixpwn in the comments.
Update #1: It looks like the Winocm and iH8Sn0w could have burned a potential future Jailbreak exploit in their release of P0sixpwn according to a recent tweet from Pod2G.
Nice! @winocm and @iH8sn0w burnt a highly valuable root exploit that would have worked for future iOS versions for a stupid 6.1.5 jailbreak.

— pod2g (@pod2g) December 30, 2013
Update #2: P0sixpwn for Windows is now available to download, click here for more information.