Apple's iPhone 5 is an incredible handset to say the least. Every component of the iPhone 5 has been reengineered by the fruit company to allow it to be more powerful while still being the slimmest iPhone ever created. If you own an iPhone 5 you have probably already noticed this, with the two most obvious examples being the Lightning connector and the Nano SIM card tray.
Speaking of the Nano SIM tray, for those of you who bought an iPhone 5 you are probably wondering if it is possible to cut the SIM card you have in hand right now to turn it into a Nano SIM card. The answer to this question is yes, and for those of you who would prefer to take your existing Mini/Micro SIM card and turn it into a Nano SIM card, rather than visit your cellular provider to get a replacement, you will be glad to know this is indeed what we will be covering in this tutorial.
Transform Mini/Micro SIM Into A Nano SIM
Perquisites: Before you even begin to transform your SIM into a Nano SIM for your iPhone 5 you will need to ensure you have the following items in hand.
Printer with A4 page
Tape
Ruler
Felt Pen
Scissors
Sandpaper/file
Step 1) – The first thing you will need to do is print the following PDF. You will need to ensure that it prints at 100% scale, and that you are printing to an A4-sized page (the image below is just an example of what the PDF looks like).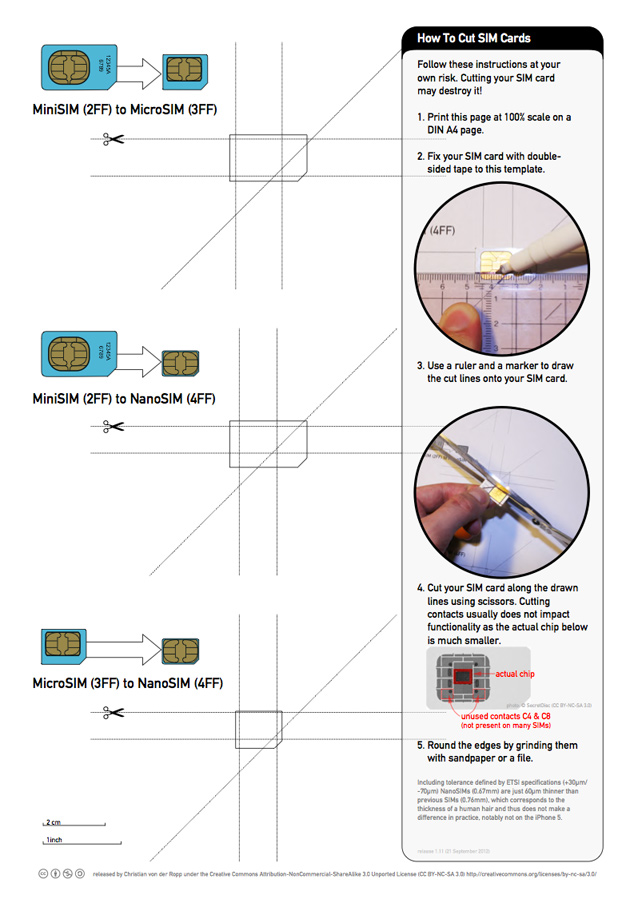 Step 2) – With your template printed you will need to place your Mini or Micro SIM card on the designated area. For those of you with a Mini SIM place it on the second space, and for those with a Micro SIM place it on the third (last) space. Once you have done this you will need to tape your SIM card to the corresponding template space.
Step 3) – Now grab your ruler and felt pen and mark the lines you will need to cut on your SIM card.
Step 4) – You are now at the point of no return. You will need to begin cutting around the drawn lines. Be extremely careful and take your time!
Step 5) – Finally you will need to take the sandpaper/file and make the edges of your SIM card round, while ensuring you do not damage the contact points of the SIM card by sanding more than needed.
The actual process of transforming your Mini or Micro SIM card into a Nano SIM card for your iPhone 5 is pretty simple, but obviously some people may find the precise cutting too tedious. As a general rule, if you do not feel comfortable we would suggest simply visiting your cellular provider, and please keep in mind iJailbreak is not to be held responsible if you do indeed damage your SIM card by following this tutorial.
Do you have questions? Was something not clear? Turn your attention to the comments section below.