Since Jailbreaking is becoming increasingly more difficult and the timeframe between official Jailbreak releases has become unbearable by some, there are those that are exploiting people's desire for a Jailbreak by setting up scam websites.
These websites promise an Untethered Jailbreak for whatever the latest firmware version is and then either deliver a free tool like RedSn0w or Evasi0n with a note that states the company is in the process of updating the tool, or they deliver a tool that just doesn't work.
It isn't even just Jailbreaking that these scam sites are setup around, but also on unlocking and downgrading. Although most people are smart enough to detect a scam when they see one, those who are new to the Jailbreaking community are not.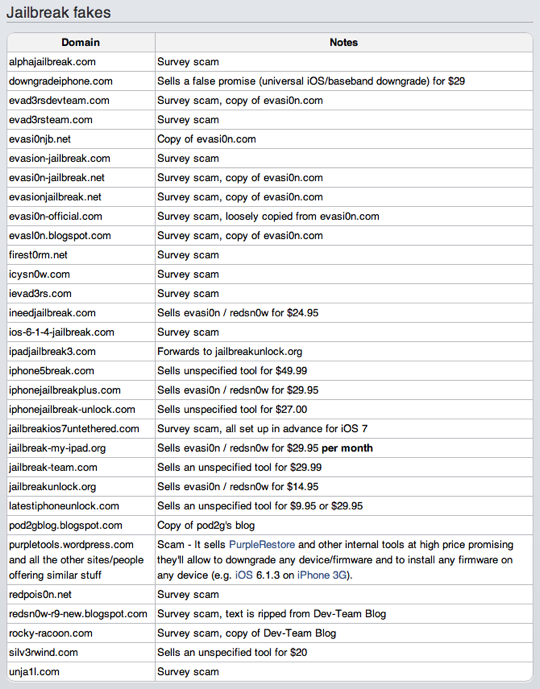 As such TheiPhoneWiki have started putting together a list of scam websites that you can help contribute to.
If you see a site selling jailbreaking or unlocking software (or asking you to do a survey before downloading), it's a scam. Some legitimate forms of unlocking are not free – third-party IMEI unlocks and SIM interposer devices both cost money – but ultrasn0w is always free. Please contribute to this list if you find a scam site. By listing them here, we can help people find good information when they search Google for more information about these sites. Make sure not to link to these pages, as all links will boost their Google ranking.
Be sure to check out the official scam site page by clicking here. Be sure to share this information with those who are less educated than you when it comes to Jailbreaking.