Remember earlier today when we told you that the famous Jailbreak hacker @P0sixninja, formally known as Joshua Hill, quit the Chronic Dev-Team? Well, we have more to the story and let's just say it gets squirrely pretty fast. You see, as I started writing about P0sixninja leaving the Chronic Dev-Team I saw some previous tweets that caught my attention, but the tweets weren't enough to actually pursue me snooping around further. These were the tweets:
When I first saw these tweets I first questioned what an iBoot 0day was. Then when I read it was a $50,000 exploit I assumed our friend P0sixninja was over exaggerating considering he was selling the exploit and also an iPhone 4 for a measly $50. Only moments ago however, I noticed security expert Paul Pols started tweeting some more information about iBoot 0day. It turns out iBoot 0day is a more important exploit than you might think! This is because the exploit has the possibility to Jailbreak all iOS devices running the iOS 6 firmware untethered including the next-generation iPhone and the 1080p Apple TV 3G.

Unfortunately the iBoot 0day exploit appears to be an exploit that is patchable by Apple with simply a firmware update. This means that it is essential the exploit does not become leaked or Apple could patch the exploit by the time Apple actually releases the final version of iOS 6. But wait… P0sixninja is selling the exploit isn't he (and for $50 at that).
Let's back up a little bit right now before we go any further. Currently a massive hacking convention is going on in Las Vegas called Defcon where programmers and security professionals from all over the world come together to watch presentations, converge with others and party. Guess where P0sixninja is right now? If you guessed Defcon you would be correct. This is currently where he was trying to sell his combo deal of the iBoot 0day exploit and iPhone 4. Considering Defcon is such a large gathering in the tech community you can pretty much guarantee there will be representatives from various corporations like Apple present.
Alright, back to the present. Since P0sixninja made the tweet about selling the important exploit and his iPhone 4 for a more $50 he had numerous people interested (who wouldn't be). There is now the threat however, of P0sixninja selling the exploit to someone who has the intention of A): wasting it, B): using it for devious purposes or C): giving it to Apple. Can you guess which one seems to be the current case?
The individual who apparently sorted out a deal with P0sixninja goes by the name of James Magahern or @buzzert on Twitter. Looking over his Twitter profile it appears that he is a typical guy, and even if you take a look at his LinkedIn profile he is just a programmer. Or that's what you would think… Paul Pols has discovered that he actually got rid of his employment at Apple previous to purchasing the exploit and iPhone combo from P0sixninja. At the time of writing this article James Magahern's employment history lacks reference to being employed by Apple, but looking at Google's web cache we can see otherwise.
If James Magahern was an Apple retail employee we might be able to just brush this over, but this is certainly not the case, he is an actual programmer. So now the situation has went from bad to much much worse. And even though James Magahern has mentioned not all Apple employees are out to destroy Jailbreakers, why would he remove his employment at Apple after purchasing the exploit?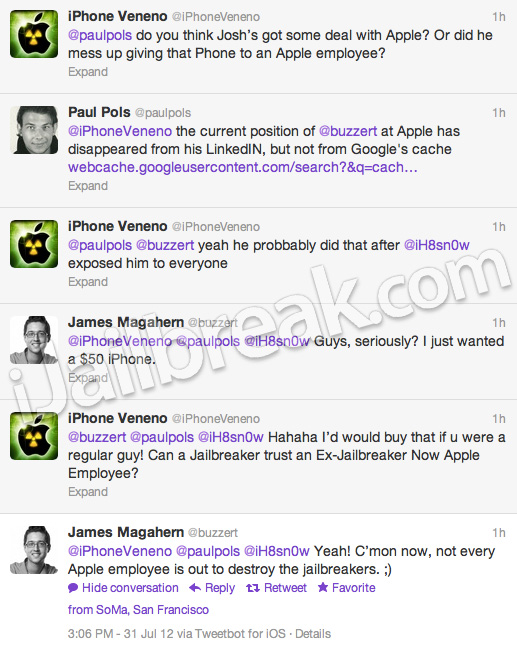 In my opinion it would have been a smarter idea for P0sixninja to hand over the exploit to other developers in the Jailbreaking community so they could have concealed it from Apple. Instead, it looks like the exploit is in the possession of a not-so-trust-worthy individual who could very well pass it along to Apple. This means it will take much longer to Jailbreak the next-generation iPhone, 1080p Apple TV 3G and other iOS devices untethered running iOS 6. What is your take on all of this? Share your responses and further thoughts in the comments section. I will also update this article as the story develops so stay tuned.