The developer of TinyUmbrella @NotCom has released an update for TinyUmbrella bringing it to version 5.10.01. Meaning TinyUmbrella 5.10.01 is now available to download for Windows and Mac OS X.
Now I am sure you are wondering what is new in this update of TinyUmbrella. Well, in this version of TinyUmbrella it will automatically add an ApNonce to the APTicket request. This means you will be one step closer to being able to downgrade to an iOS 5.x.x firmware not being signed by Apple. Unfortunately, even with the ApNonce being added to the APTicket request you can still not downgrade to an iOS 5 firmware version not being signed by Apple. At this time, however, this is one of the safest ways to save the SHSH blobs of your iPhone, iPod Touch or iPad running the iOS 5.0 or iOS 5.0.1 firmware.
Note: In order to be safe, after you save your SHSH blobs with TinyUmbrella, your best bet would be to zip up your .shsh directory and put it in a safe place.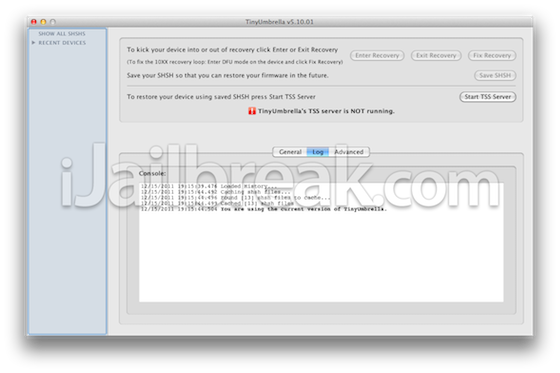 Follow our step-by-step guides to save your iPhone, iPod Touch, iPad and Apple TV SHSH blobs using TinyUmbrella, and to downgrade using TinyUmbrella:
You can download TinyUmbrella 5.10.01 from the iJailbreak Downloads Section. Additionally you can use one of the download mirrors below:
Download TinyUmbrella 5.10.10 (Windows)
Download TinyUmbrella 5.10.10 (Mac OS X)
Please leave any questions or thoughts in the comments section below…