Only a few weeks ago we told you guys about the possibility of JailbreakMe 3.0. You see, Comex posted a teaser image, when you viewed Jailbreakme.com on a desktop computer, which showed a picture of a ski slope with a sign labeled PDF. If you were familiar with the last userland Jailbreak created by Comex you will realize that the exploit Comex used to create the userland Jailbreak was through a vulnerability with how PDF files could be executed on the iOS firmware. Thus this image is hinting at the revival of Jailbreakme.com!

Today Comex has posted another teaser on Jailbreakme.com that could hint Jailbreakme 3.0 is close to completion, or very simply this new teaser could symbolize just how much work Comex has put in to reviving Jailbreakme.com.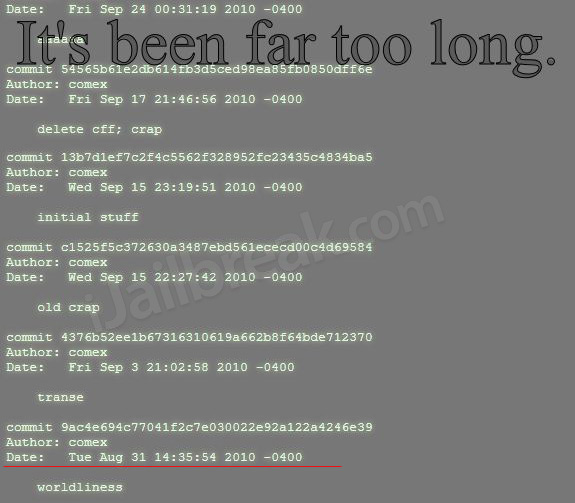 If you visited JailbreakMe.com, or are simply looking at the image embedded above, you will most likely be asking yourself what does all of this mean? To give you the gist of the situation each entry (referring to a commit, author, date and comment) is referring to an update/change in Comex's source code. There are numerous entries dating all the way back to August 31st, 2010. Showing you just how much work Comex has put into preparing JailbreakMe 3.0!
While I know many people have been waiting and waiting for an iPad 2 Jailbreak, and many people will begin expecting an untethered iOS 5 Jailbreak in the near future. It is important to show your appreciation for all the developers who donate their time to make Jailbreaking a reality (donate being the key word there). Without their continued support, Jailbreaking could not continue and would not continue for as long as it has.
UPDATE: The official JailbreakMe 3.0 is now live!