Just over a week ago we told you how to officially unlock your AT&T iPhone. The process very simply involved contacting AT&T's online support or calling AT&T directly to have your iPhone scheduled to be unlocked. Now it is important to keep in mind that not all AT&T iPhones can be unlocked; you must first be out of your contract and secondly be in good standing (meaning you paid bills on time etc.). As long as you meet the criteria you can officially unlock your iPhone for free.
Once you went through the process explained in our last how to guide there was nothing you could do but wait until AT&T processed your request and sent you a confirmation email. As long as you met the requirements outlined then you should have the email depicted below sitting in your inbox within the next 2 weeks.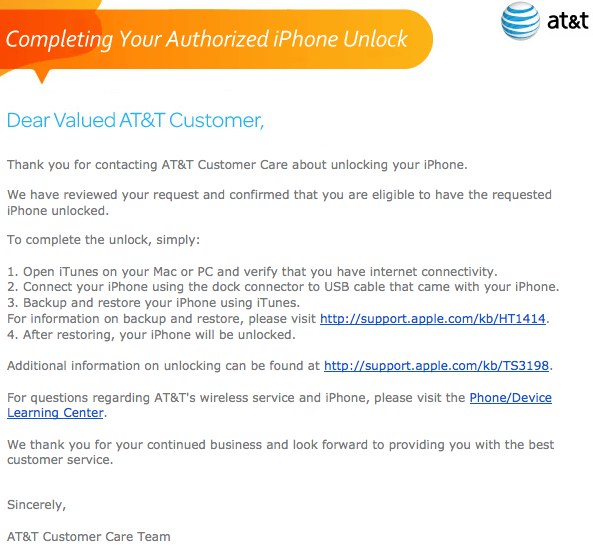 Obviously if your iPhone is not Jailbroken then restoring should not be a big deal. For Jailbroken iPhones however, restoring means you will lose your untethered Jailbreak. If you are in this boat then you will be glad to know there is a way around restoring your iPhone and still being able to unlock it. As pointed out by iDB you can simply use RedSn0w's deactivate option, which is exactly what you will learn how to do in this how to guide.
How To Officially Unlock AT&T iPhone Without Losing Jailbreak
Perquisite: You will first need to request that AT&T unlocks your iPhone before following this How To guide (click here for more information).
Step 1) – The first thing you will need to do is download the latest version of RedSn0w (Windows or Mac OS X) from the iJailbreak Downloads Section.
Step 2) – Next you will need to launch RedSn0w and click the Jailbreak option.
Step 3) – From the next screen you will simply need to put your iPhone into DFU. To do this simply follow the on-screen instructions.
Step 4) – After your iPhone was put into DFU an options screen will appear. Deselect the Install Cydia option and select the Deactivate option. Once this has been done click the Next button to continue.
Step 5) –  RedSn0w will now begin performing its voodoo and in about 5 minutes your iPhone should reboot. Once this happens iTunes should launch telling you that your iPhone has been successfully unlocked.
As long as you followed all the steps outlined in this how to guide you should have a Jailbroken iPhone that has been officially unlocked through AT&T. If you have any further questions or thoughts please leave them in the comments section below…