Apple released a recent update to the iOS operating system called the iOS 5 firmware. iOS 5 has been the biggest firmware update yet, with around 200 new features for iPhone, iPod touch and the iPad. Additionally, a number of extra multitasking gestures were also included for the iPad 2 version of the iOS 5 firmware. Unluckily these gestures and display mirroring were not added in the iPad 1G. But don't worry, as we are back with a solution for getting multitasking gestures on your iPad 1G.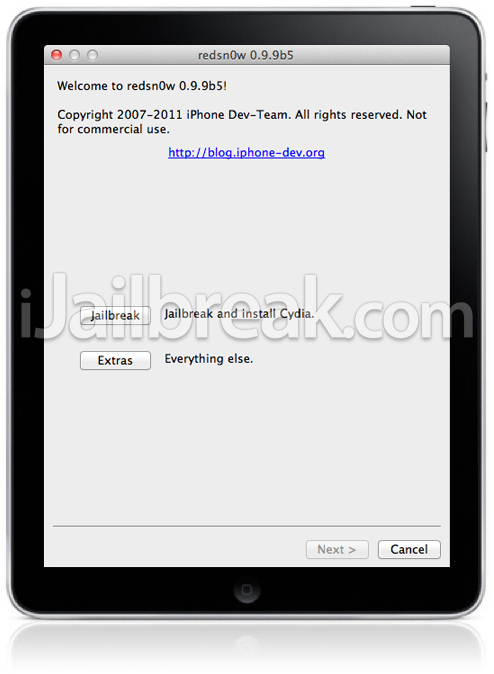 There is a simple and easy way to get Multitasking Gestures and Display Mirroring on your iPad 1G by using this modified version of RedSn0w. No, this will not jailbreak your iDevice. This is only a modified version of RedSn0w, which is specifically modified to enable multitasking for your iDevice.
This modified version RedSn0w can be downloaded from the iJailbreak Download Section. Additionally you can use one of the download mirrors below:
Mirror #1: Windows Download
Mirror #1: Mac OS X Download
Download the modified version of RedSn0w.
Unzip and run Redsn0w (follow the on-screen instructions).
Put your iDevice into DFU mode by holding both power and home buttons for 10 seconds, and then releasing the power button, but continue holding the home button for another 6 seconds. After your iDevice is in DFU mode you can uncheck "Install Cydia" and check "Enable multitask gestures".
Once the whole process is complete, go to Settings > General and Voila, there is the multitasking option ready for you.
Any confusion about this, then watch the video below:
If this how to has helped you, consider liking this post by following us on twitter or liking us on Facebook. For more how to's from iJailbreak.com, visit the How To section by clicking here.
(via LifeHacker)