As you may have heard, OpenFeint–the original free social gaming platform for the iPhone–will be shutting the doors to their service on December 14th. Games that rely on OpenFeint have been advised to switch to GREE (?), a service run by the company that bought OpenFeint, but that doesn't help us if our favorite old games aren't getting updates. If you don't want to lose your legacy game data, here's a guide to backing up your saves between devices.
While this guide is made for OpenFeint games in mind, you can use it to safely back up and transfer data from any app, including apps that don't support cloud save game transfers in the first place.
Connecting a FTP to the iPhone, iPad or iPod Touch to Transfer Files

What you will need:

A jailbroken iPhone, iPad, or iPod Touch
A computer with an FTP client, such as WinSCP or FileZilla
OpenSSH

1. If you don't already have OpenSSH installed on your iPhone or iPad, install it from Cydia now. If you have SBSettings installed on your device, make sure the SSH toggle is enabled. You will also need a FTP Client like WinSCP for your computer.

2. Ensure that you are on the same WiFi network as your device. Enter the following information into WinSCP, and then press login.

Host name: (Your device's WiFi IP address. You can find the address in the SBSettings window.)
Username: Root
Password: ("Alpine" by default. If you don't change the default password, make sure to turn the SSH toggle off when you're done.)
Normally, all the apps you've downloaded are stored in one place: "/private/var/mobile/Applications/". Getting there isn't difficult, but finding anything in this directory manually is a pain, especially if you have a lot of apps. The HEX names for the files in this directory appear to be in gibberish, and they are different from machine to machine. You could poke through them one at a time, while taking notes, but that would take forever.
Lucky for us, there's a trick to finding which files contain the apps we want. The trick is called AppLinks–a free Cydia utility that will create a human-readable alternate shortcut directory for your apps. Just install AppLinks, run it from Springboard, press the refresh button, and you'll have an app directory that isn't filled with gibberish.
Using a file transfer program like WinSCP or FileZilla, navigate to "/private/var/mobile/AppLinks", which should be far easier for you to read than ~/mobile/Applications.
Next find whichever app it is you want to snag save data from. You don't have to copy the entire app folder–unless you really want to needlessly transfer hundreds of megabytes back and forth. Instead just select the Documents and the Library folders, then drag and drop the files to your computer's desktop.
From here you can store the save game folders to a new file as a backup or transfer the saves to a different device–which can also be done with AppLinks and WinSCP. Just make sure that the game is not in the app switcher while you're replacing files, as otherwise the transfer may not work.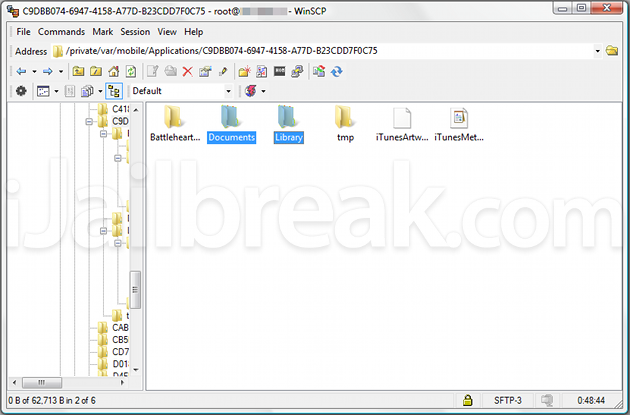 Sure, you won't have online leaderboards unless the developers eventually update the game, but you won't lose your progress either if you follow the tweak.
Did you find this guide helpful? Share your thoughts in the comments section below.