The well-known Cydia tweak developer Elias Limneos behind tweaks like CallBar and Call Recording has just released a new tweak today called VoiceChanger. As its name suggests it will allow you to change your voice during a phone call.
Right now there are 4 different voice effects, along with the normal voice, that you can switch between during a live phone call. The 4 effects currently include Smurf and Rumpelstiltskin (high pitched effects) and Tenoro and Dark lord (low octave effects).
Unfortunately most of the effects do make your voice hard to understand, but the fact that you can switch between voices during a live phone call is pretty neat. It is also worth noting that there is no built-in integration to the Phone app so you have to venture into the Settings app to change the effects.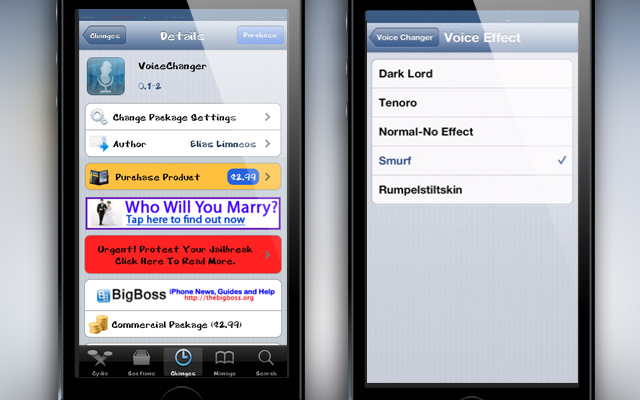 VoiceChanger only supports the iPhone 5 and the iPhone 4S running iOS 6.x right now and iPhone 4S users can only use the speakerphone when a voice effect is enabled or you will run into issues. All other iPhone models are left out.
With the bad voice effects, limited support and a high price tag of $2.99 it is hard to recommend the tweak. Unless you are dying to be able to apply voice effects to live phone calls I would hold off until some of the issues have been taken care of.
If you decide to try it out though, let us know your thoughts in the comments section below.