Would you like to mix things up a bit on your lock screen? Maybe, launch a few different apps from the lock screen, while getting rid of the slide to unlock?
Atom is an upcoming jailbreak tweak that brings a different style to your lock screen. Users will have the ability to launch six apps as shortcuts on the lock screen that can be configured from the Settings app. The apps can be launched by sliding a nub-like icon over the app you wish to open and releasing it. Users can also slide the nub to the unlock icon to gain access to the home screen. There's also talk about a "flick" type of style to unlock as well.
Even though there are other tweaks that allow users to launch applications from the lock screen Atom does this in a completely different style. It has a modern feel, is animated and overall is just a fun tweak.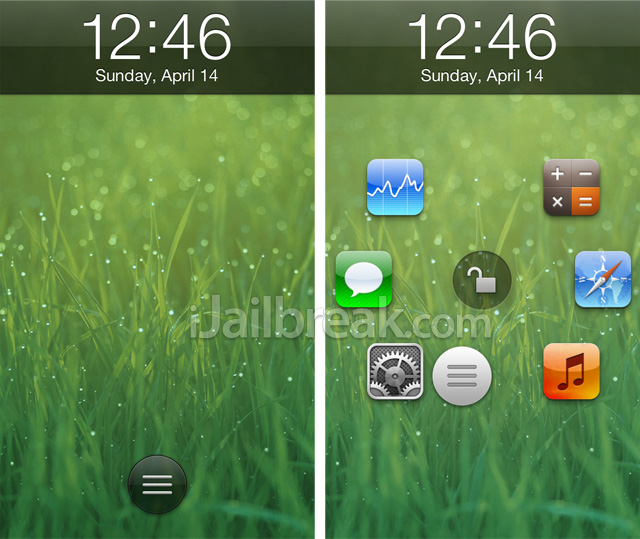 As you can see from the screenshot above, Atom replaces the iPhone's slide to unlock bar with a nub-like icon. Like I mentioned previously, when a user selects the nub they can hover around and select the app they want to launch or simply unlock their device by releasing on the unlock icon. The nub is placed at the bottom of the lock screen in the middle, which not only makes it feel like it has a function, but is easy to use with either hand.
After installing Atom users can head over to the preferences panel in the stock Settings app. Inside Atom's settings panel users will find six selections under the Position section. This is where users can configure the apps that will appear on the lock screen either in the Top Left, Top Right, Middle Left, Middle Right, Bottom Left and Bottom Right. It is worth noting that every position must be filled with an app and users can't insert blank shortcuts as of now.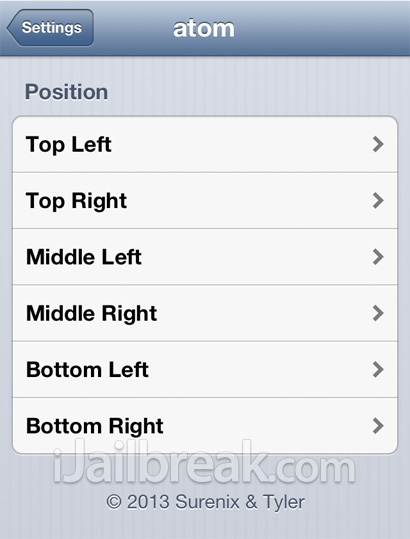 It looks like Atom will be released through the BigBoss repo in Cydia next week. If you are familiar with the Ayecon theme and Surenix, he helped with some of the design elements. Even though there are other tweaks users can launch apps from the lock screen I think Atom seems sleeker, has animations when you actually move the nub around and its simply a nice way of using your lock screen in a different manner. The price has yet to be determined… hopefully it will be reasonably priced.
What do you all think of Atom, you can leave your comments below.