Ayecon, pronounced "icon" or "ai-con" is a theme that's made my iPhone 5 personal yet again. With so many different themes to choose from, some are not complete and trying out other themes just to finish off the other can become frustrating. I hesitated themeing this time around because I felt like I spent most of my time waiting or fine tuning even a sweet theme like Suave.
When I finally looked around Cydia for iPhone 5 compatible themes I stumbled across ayecon. I started off only selecting the "ayecon SpringBoard" in WinterBoard and as soon as the device re-sprung I was hooked. With every new ayecon selection in WinterBoard my friends wanted a piece of the action.
Ayecon can be explained as an enhanced version of Apple's iOS look and feel of the standard interface. A user may not see some of the subtle changes at first, but as you soon learn it's quit impressive (example; background image in SMS). The theme is jammed pack with 191 icons, a system wide interface, lockscreen, auto-app mask for App Store apps, Cydia apps and so much more. Ayecon was designed to utilize the Retina display and requires a Retina capable device running iOS 4-6.
In addition to this great theme it also comes with a PSD file to create your own icons.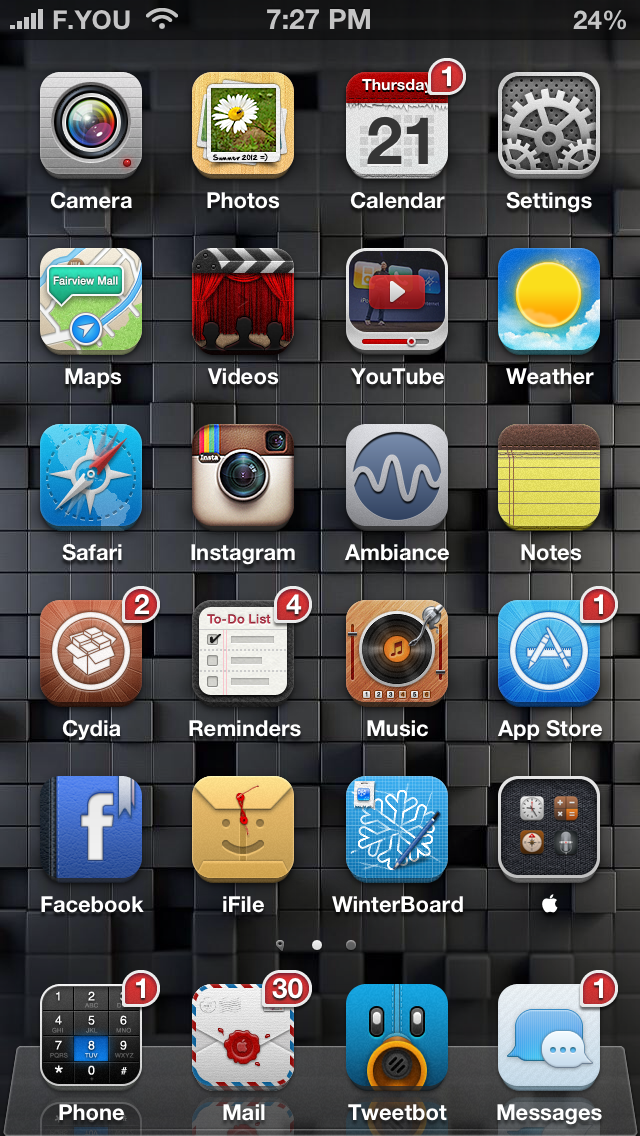 The theme has already updated once since the first Evasi0n tool to jailbreak your iPhone. Thientam Bach is the creator of this wonderful theme and costs $2.99. It's well worth it in my opinion. There are additional ayecon add-ons like SBSettings, Auxo, LiveClock, Clockify and WeatherIcon. Go check it out and you can leave comments in the section below about this awesome theme!
In addition to this theme I am currently using Mac startup Unlock Sound with the NightLion HD battery lockscreen and once in awhile I will turn off the ayecon LockScreen for UnFold. Don't forget there is also an iPad version available as well.