This isn't the first tweak that adds animation effects to the lockscreen or the Notification Center. The Unfold lockscreen animation is one of my favorites, and this new one also makes the list. UnCurl is a new tweak that adds a page switching animation to your lockscreen and the Notification Center.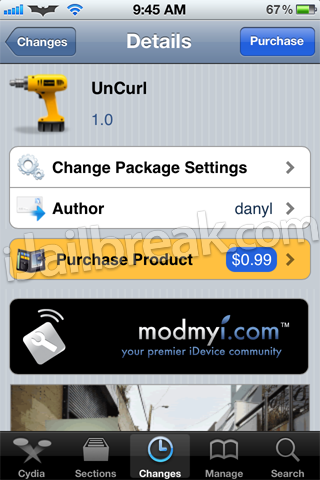 UnCurl brings iBooks styled Page switching animation to your iOS lockscreen and Notifications Center. It's pretty cool to unlock your iPhone by flipping/curling it upwards. You can add the same effect to the Notification Center and can drag it down or pull it up by curling the page. The tweak gives you a lot of customization options, for example, you can choose to disable/enable the animation on either the lockscreen or the Notification Center. You can adjust the amount of curl when unlocking the lockscreen or opening Notification Center, and you can add custom text instead of Slide to Unlock. Check out a video preview of the tweak below:
This tweak is only compatible with the iPhone and the iPod Touch, no iPad support yet. It works great and is definitely worth a try, if you're in to animating your lockscreen or Notification Center. Of course, this tweak has only one animation, so you might prefer others that offer more than one. UnCurl is available in the ModMyi Repo for $0.99. Try it out and let us know what you think of it.