The problem with banner alerts is that they're only useful if your looking at your phone or tablet's screen. If you are listening to music while your iPhone or iPod Touch is in your pocket, if device is plugged into a stereo, or if you are driving, a simple 'ping' isn't going to help you. With the TitleSpeak tweak available in Cydia, Siri's voice can read your alerts to you as they come in.
When you receive a banner notification in TitleSpeak, the banner pops up as normal and a Siri-like voice reads out the alert. Unfortunately TitleSpeak currently is limited to reading the title line of the alert, though with iMessage, Mail, and many third party apps, this will be enough to notify you at least to the name of the contact who is trying to get your attention.
Unfortunately there aren't any settings to speak of for TitleSpeak, short of disabling the tweak through MobileSubstrate or uninstalling the tweak from Cydia. As it is not always ideal for Siri to blurt out my contacts and alerts, though you can silence your device. Hopefully we will see a custom SBSettings toggle for the tweak in the near future.
One pleasant surprise is that TitleSpeak works on all devices in iOS 5 and up. I was able to get TitleSpeak working on my iPad 3 testbed, without Siri installed. If you have an older iPhone or an iPod Touch this is a great way to get voice alerts.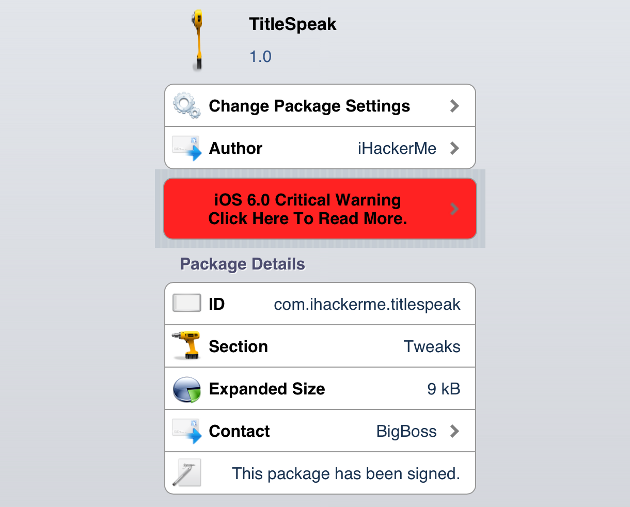 You can find TitleSpeak in the BigBoss repository on Cydia. The tweak is free and seems to work without issue in iOS 5.
Share your thoughts in the comments section below.