I recently decided that I was bored of my stock **SBSettings theme. I wanted something that looked a little cleaner on my iPhone 4's Retina Display! I finally had a few moments tonight to search the web and find a few great looking SBSetting themes. The first SBSettings theme that caught my attention was a fairly well known theme called iRetina. While this SBSetting theme is definitely crisp and clean looking, it will cost you $2.00. After more seriously looking into this theme I was about to jump the gun and purchase it, but I decided I would look for awhile longer at some alternatives.
In all honesty I am glad I kept looking because I found a helpful thread on the MacRumor forums that lead me onto finding a FREE theme called Serious SBSettings HD (which you can view in the image below). Personally I am really enjoying Serious SBSettings HD theme and in my opinion I think it is on par with the iRetina theme.
**SBSettings: SBSettings is one of the most popular jailbreaking tweaks that adds the ability to quickly toggle settings such as 3G and Wifi without needing to go inside the settings.app. It is available free through Cydia!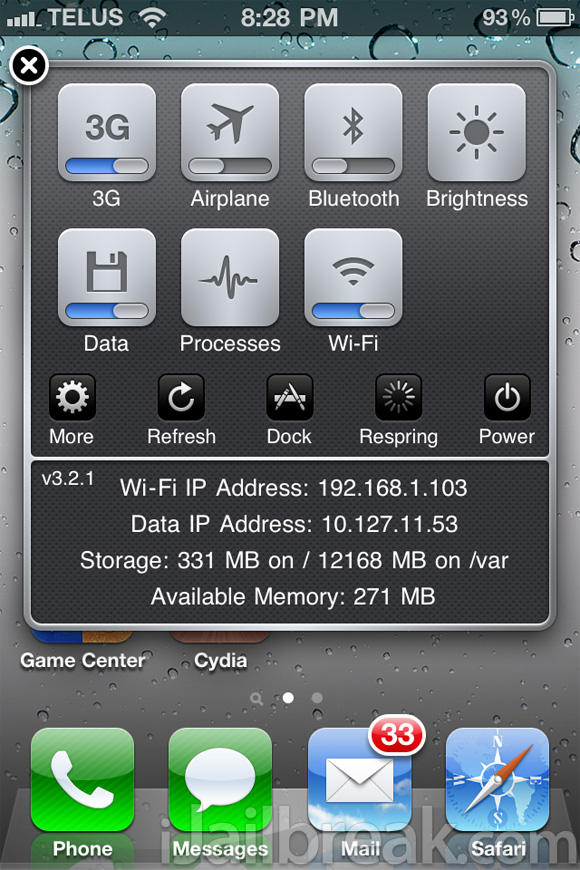 Though I am happy with my current SBSettings theme I am still on the lookout for more! If you have a theme you would like recommend please post it in the comments section below. If enough interest is shown I will create a separate post showcasing all the submissions with credits to who submitted each theme. I am looking forward to hearing your favorite SBSettings themes.
How do I attach an image? To attach an image to your comment you will need to click the + image button beneath the comment entry field (bottom left). You then select a screenshot from your computer (you may need to login with a service like twitter before this + image button will be shown).