A new jailbreak tweak called SmartTap has been released on Cydia that lets you wake/sleep your iOS device by simply double-tapping on the display.
Developed by Elias Limneos, the tweak also lets you unlock and lock your device or open apps even when the screen is off. You can use gestures such as swipe up or down to open apps. This tweak will come in handy for those users whose home button or sleep/wake button is faulty.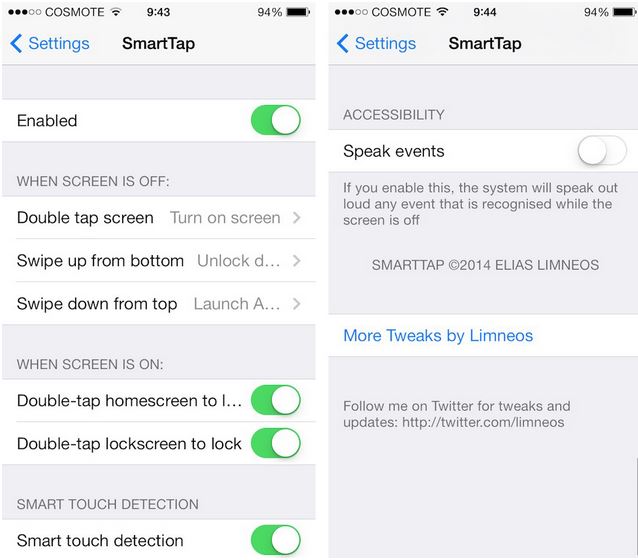 The tweak has been optimized so that it uses minimum battery and it won't detect touches when your device is in your pocket, bag, purse etc. You can turn off the tweak from the Settings option and set gestures for 'When Screen is Off' and 'When Screen is On'. If you use a passcode, you probably don't want to use this tweak to launch apps or unlock your device. It will not be a smooth operation.
Since this tweak keeps the digitizer of your iOS device on all the time, it will obviously effect the battery life. Although, the developer has mentioned that normal users shouldn't notice much of a difference in battery life.
SmartTap can be a very useful tweak for some. If you're one of them, you should open Cydia and download it from the BigBoss repo. It'll cost you $1.99 and it requires iOS 7 or higher to work. What do you think of the SmartTap tweak?