Back in February we told you about a tweak called TypingPrivacy that allowed you to disable the typing indicator on iMessage completely, as even when you turn read receipts off through the Settings app, the typing indicator still shows up. The only downside to this tweak was it was an all or nothing kind of deal.
Now a new tweak has been released by the name of SelectiveReading that will allow you to give fine-grained control over who receives iMessage read receipts. With SelectiveReading installed you will be able to choose a default setting of Yes, No or Ask, and override this setting for selected contacts.
SelectiveReading supports all iMessage apps including Messages, BiteSMS, IntelliScreenX, Messages+ etc. The tweak also allows you to disable the typing indicator as well, but not on a case-by-case basis.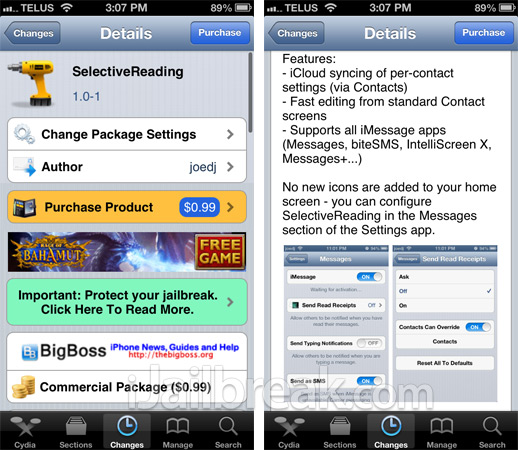 If you have been looking for a tweak to give you full control over who can see that you have read their messages and who not then SelectiveReading is the tweak for you. It beats completely disabling the functionality, when it may be only one person you don't want read receipts to apply to.
You will of course need to pay a premium for the tweak though. Currently it costs $0.99 from the BigBoss repo and is compatible with both the iOS 5 and iOS 6 firmware generations. Let us know what you think of this tweak in the comments section below.