Safari Download Enabler started off as a much needed replacement (if not a poor man's replacement) for Safari Download Manager, which until recently did not support iOS 5. When it was first released, Safari Download Enabler required an external app, such as iFile, to link files from the web to the iOS device's storage. With the most recent update, Safari Download Enabler might just be the superior tweak. What's more, unlike Safari Download Manager, Safari Download Enabler is totally free.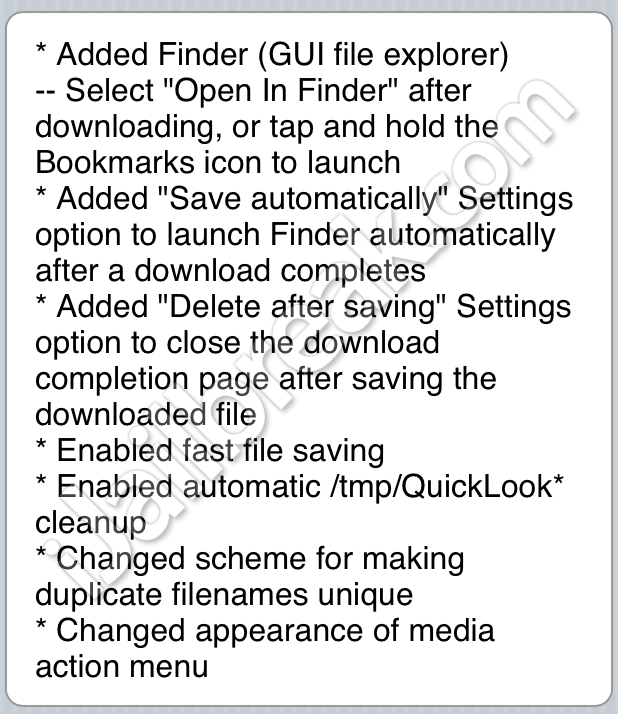 Safari Download Enabler's most recent update did away with the iFile requirement. The tweak now includes an integrated "Finder", or file browsing system. When you select open in "Finder", a file browser window appears, and you can navigate to save the file anywhere you choose. There is no lag with this method. It just saves your files wherever you want.
You can also launch Finder by holding down the bookmarks button, but its features are strictly limited in comparison to iFile's. You can point the Finder to a new directory or create new folders, but you can't launch anything. Most of the time, you're just going to use Finder to quickly confirm your download's location.
There are a few other, minor new features in Safari Download Enabler. There is a new option to save downloaded files automatically. Another new option, "delete after saving", removes the history of downloading a file after completion, keeping your downloads private. There are also more technical fixes, such as automatically clearing the temporary folder and improved handling of identical file names.
The only downside is that the tweak only supports Mobile Safari, not Chrome. It's great if you plan on sticking with your iPhone, iPad, or iPod Touch's default browser, but if you're eyeing Chrome or Dolphin, you would have to use Safari to download the file. While I can't fault a tweak called Safari Download Enabler for not supporting other browsers, or vice versa, the lack of support favors the default browser.
You can find Safari Download Enabler on Cydia in the BigBoss repository. The plugin is a free download. You can enable or disable the plugin and various options in the Settings menu.
Would you use Safari Download Enabler over Safari Download Manager? Share your thoughts in the comments section below.