If you frequently need to visit the same webpages, iOS offers you a few options. You could save the websites as bookmarks, you can save the bookmarks to the SpringBoard, and you can install one of many RSS readers to check for updates to your favorite websites. Now you have an even faster option. RapidLinks lets you call up your favorite links at any time.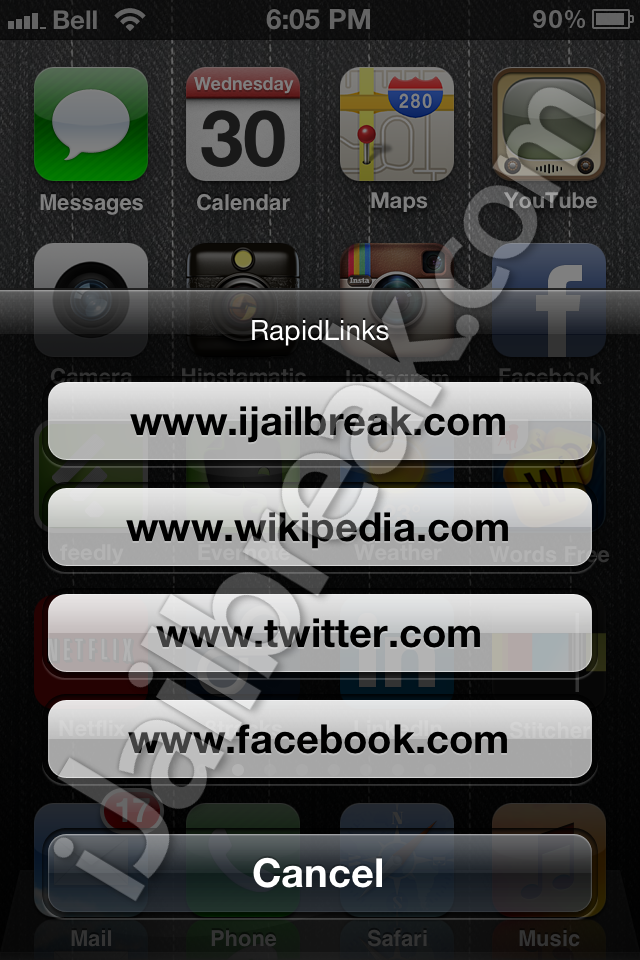 With RapidLinks, you can enter your favorite links in the settings menu, under Settings -> RapidLinks. RapidLinks has room for 5 URLS. RapidLinks is triggered by Activator gestures, which can also be specified in Settings. (I went with a doubletap of the status bar.) Using the Activator gesture you can call up the URL links at any time.
You might notice from the screenshots that I did just about everything wrong at my first try. RapidLinks won't work if you don't include the "http://" alongside with the url. (Or if you reverse the URL and its label.) The app does include warning that the "http://" is required, so fair warning. If you do enter the URLs in wrong, it's not a big deal though. The links just won't work.
RapidLinks is available for FREE from the ModMyi repository in Cydia. It's a default Cydia repository, so all you need to do is search for it.
While there are other options available, RapidLinks might be the ideal solution for you. Let us know if you find RapidLinks helpful. Share your thoughts in the comments section below.