PowerOptionsPro is yet another lock button-activated menu for the iPhone and iPod Touch. You might be wondering why anyone would pay for a lock button menu to power off their device when SBSettings very common Cydia utility that includes more functionality and is free. Even the options that were tacked on to make the PowerOptionsPro more appealing can largely be added onto SBSettings or found in other free tweaks.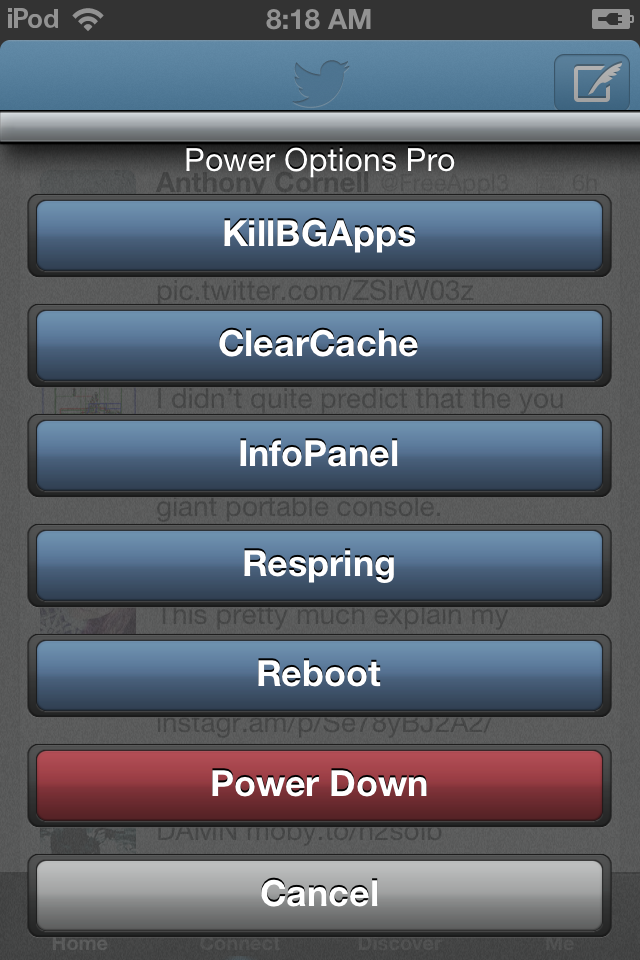 The tweak: PowerOptionsPro's main features include killing background apps, clearing the cache for WinterBoard themes, and initiating resprings, reboots, and powering off the device. Almost all of these functions can be found in SBSettings by default, aside from killing background apps and clearing the WinterBoard cache with a button press.
PowerOptionsPro can also be used to view your devices memory and networks (just like SBSettings!) and can adjust the time it takes for your lock screen background to to dim… so it has that going for it, at least.
Where to install: PowerOptionsPro can be found in the ModMyi repository, and costs $0.99. The tweak can be configured in Settings.
Alternatives: SBSettings is a free menu that can also be activated in a number of ways including pressing down on the lock button. The few features PowerOptionsPro has that SBSettings doesn't can be solved by third party toggles like Remove Background SBSettings–or free utilities like ClearMyCache. To be fair, PowerOptionsPro also includes the ability to exclude apps and themes from its clear/remove buttons, but you're probably not going to use the feature. That said, if you think $1 is a fair price to pay for the ability to adjust the dimmer on the lock screen, you can always buy PowerOptionsPro instead.
PowerOptionsPro's sneak preview video.
Would you install PowerOptionsPro on your phone? Share your thoughts in the comments section below.