You may not have noticed this but the Action Sheets used on the iPhone and iPad actually differ in style.
Just what is an Action Sheet?
Well an Action Sheet is the menu that appears when you try and attach something to a message through the Messages app for example (as shown in the image below). These Action Sheets also appear in apps such as Videos, Safari etc.
The Action Sheet on the iPhone slides up from the bottom of the screen, but on the iPad it is more of a popover effect. If you would like the popover iPad Action Sheets on your iPhone or iPod Touch you will be glad to know that it is now possible thanks to the Popoveractions Cydia tweak.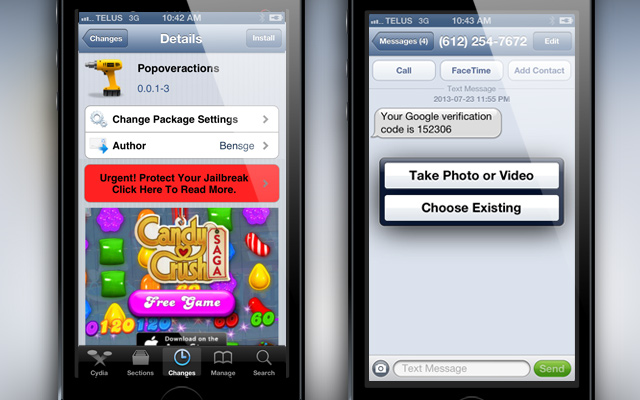 Simply install the tweak and it will begin working immediately. There is no settings to configure and there will be no icons added to your homescreen. In my opinion the default implementation of Action Sheets is still better, but if you are looking to change things up Popoveractions may appeal to you.
If you are interested you can find the tweak in the BigBoss repo for free. Let us know what you think of it in the comments section.