It's time to cover another Lockscreen passcode replacement tweak! That's right joining the ranks of numerous other tweaks like Piano Passcode, AndroidLock XT etc. comes another tweak by the name of PatternUnlock.
PatternUnlock, as its name suggests, brings about the ability to unlock your iOS device using a pattern that you set through its preferences panel in the Settings app. The first thing you will need to do after installing the tweak is set a passcode on stock iOS if you don't have one enabled already. You can do this by going into the General tab, followed by the Passcode Lock section and enabling Passcode lock.
Once you have set a passcode go inside the PatternUnlock preferences panel and turn the tweak on. Upon doing this you will need to draw out a pattern that you will remember by connecting 9 dots. Once the Pattern has been set lock your device and you will see the new passcode interface appear when you slide to unlock. Notably there is also an Option bar that still allows you to access the Emergency call screen or enter your default numeric or alphanumeric passcode.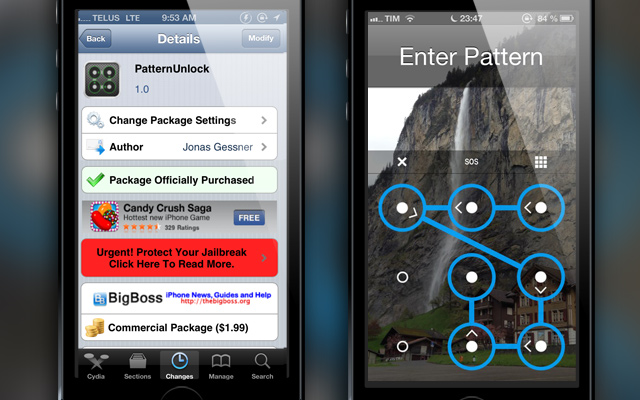 There is quite a few Settings that you can play around with for PatternUnlock that include themes. There is 5 themes in total that include CLear, Droid, Droid Flat, Invisible and One. Developers can also easily create their own themes by reading through the Theming guide.
There is haptic vibration that you can setup for when you touch points or unlock the device as well. The only other options include the ability to disable the Option bar or the emergency call button and the ability to block the device when a pattern is entered incorrectly too many times (this functions the same ways as the standard passcode lock).
All-in-all PatternUnlock is a very well designed tweak that I would suggest checking out if you don't already have a pattern unlock tweak. I wouldn't say it has any extraordinary benefits over the ones currently available. It is available in the BigBoss repo for $1.99. Be sure to check out our video review of the tweak and share your thoughts in the comments section below.