We previously covered a preview of the Piano Passcode Cydia tweak here on iJailbreak, but now the tweak has finally been released for real. With Piano Passcode, instead of having a boring numeric of alphanumeric passcode you can play a short tune on a piano to unlock your device.
By default after you install Piano Passcode and respring you will have to play the default tune of tapping all of the keys (left to right). You don't have to stick with this boring tune, however, you can change it in the Settings app. From within the Settings app there is a killswitch for the tweak, a save and respring toggle that you will need to use anytime you change Settings for Piano Passcode and two more tabs for changing the tune and enabling secure mode.
The tune needed to be played in order to unlock your device can be changed by entering strings of numbers corresponding to the keys of the piano. If you want to make a tune you will have to know which keys correspond to which number.
With the Secure Mode tab you can enable it so Piano passcode will work with tweaks like iCaughtU and JellyLock. If you use tweaks like these make sure you read through the developers notes.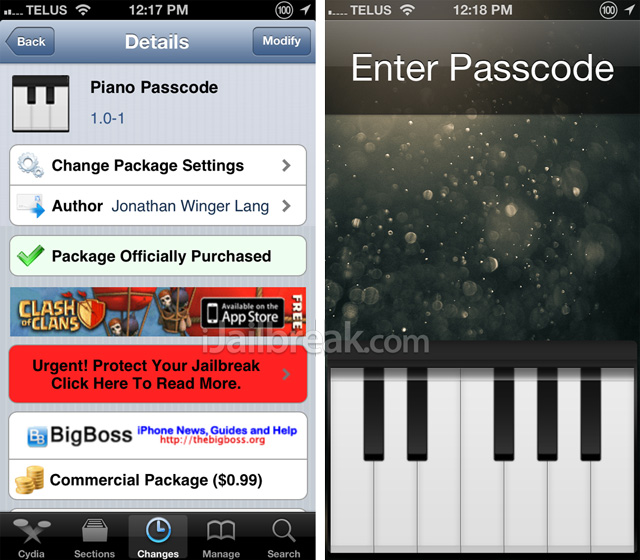 Piano Passcode does work with a passcode enabled as well if you want something more secure. It isn't recommended by the developer to do this, but if you enable one with the tweak installed you will see new icon allowing you to skip the piano and enter your passcode instead.
Piano Passcode is available on the BigBoss repo for a price of $0.99. Be sure to let me know what you think of this tweak in the comments section below and don't forget to watch the video review.