While Chrome has features that make it a compelling alternative browser to Mobile Safari, its stifled by iOS' lack of native integration with non-default browsers. Even if you prefer Chrome, your iPhone will still open links to Mobile Safari. We recently featured Ryan Petrich's BrowserChooser as a Cydia tweak which can set Chrome as the default browser. Unfortunately, BrowserChooser is only available in Petrich's private repository. If you don't want to go through the trouble of adding the repository, there is another tweak called Open in Chrome, which is available in the default repositories.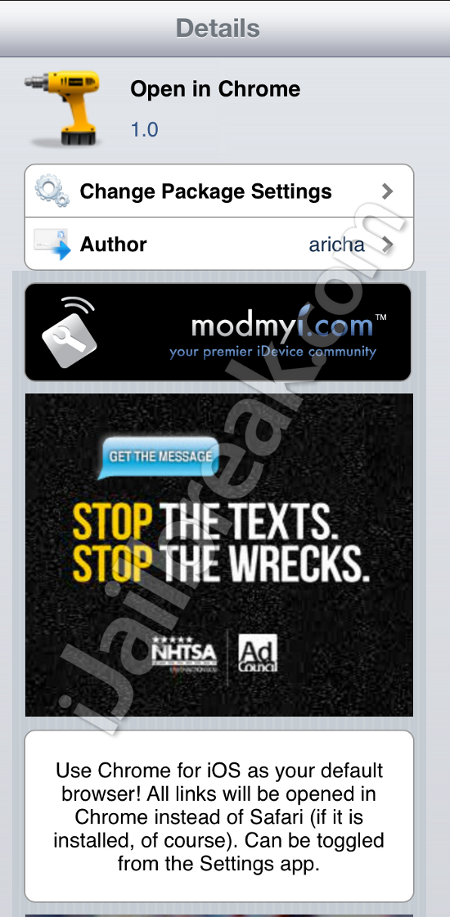 Open in Chrome isn't as polished as BrowserChooser; all outgoing links still say Open in Safari. Otherwise, on the iPhone, it works fine. Chrome opens instead of Safari. You can switch it off in Settings.
The iPad is a different story. The tweak is installed and enabled by default, but it currently doesn't do anything. Links open to Safari as usual. My suspicion is that it was made specifically for the iPhone version of Chrome, without taking the iPad into account. This lack of support is disappointing as the iPad version of Chrome is closer to its popular desktop counterpart; I would be more likely to use Chrome as the default browser on my iPad than on my iPhone.
While Open in Chrome does not support the iPad, BrowserChooser does. If have an iPad, you will still want to install Petrich's tweak from his repository (here is a guide on how to do so). If you only have an iPhone or iPod Touch, Petrich's app is still the superior tweak, but you can install quickly Open in Chrome as another free alternative.
What tweaks would you like to see for the Google Chrome Browser? I wouldn't mind the ability to add other search engines to the address bar. Share your thoughts in the comments section below.