MobiSEC: Easily Filter, Organize And Password Protect SMS Messages/Call History
The MobiSEC Cydia tweak will allow you to better manage and organize your call records and SMS messages. Additionally the tweak will allow you to set black and white lists for different phone numbers. You can also set certain phone numbers (both SMS and call history) to go into a private folder that only you can access. Lastly, MobieSEC allows you to set your own filtering rules for incoming calls and SMS messages.
If you are looking for a Cydia tweak that will make managing your cellular data (SMS messages and call history) then MobieSEC is for you.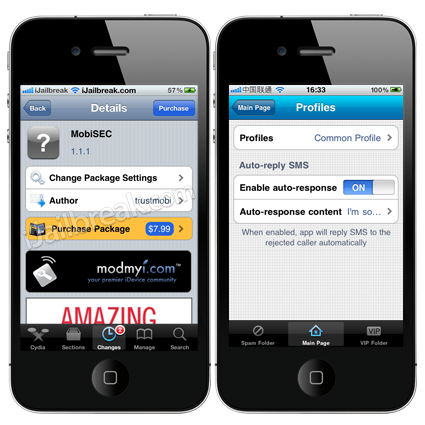 If you are interested in the tweak you can find it through the BigBoss repo for free.
SearchCommands: Create Custom SpotLight Commands
Using the SearchCommands Cydia tweak you can add shortcut commands to spotlight, allowing you to perform system actions in a quick manner. This means, for example, you could create a new SMS message/email straight from the spotlight search screen. Though this tweak is very similar to SpotEnhancer, it is also very extensible. Meaning it is easy for you to develop your own shortcut commands.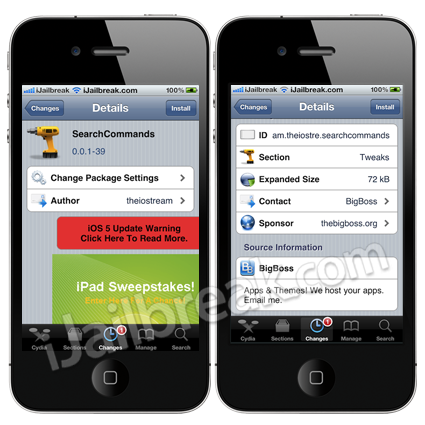 If you are interested in SearchCommands you can find it through the BigBoss repo for free.
MailKeyboardHide: Hide The Keyboard While Scrolling Through Mail
Using the MailKeyboardHide Cydia tweak you can hide the Keyboard while scrolling through the Mail Composer view in the Mail.app or any composition view system-wide. The reason using the tweak would be useful is because it allows you to see more of your message at once (conserving space on such a tiny screen is always important).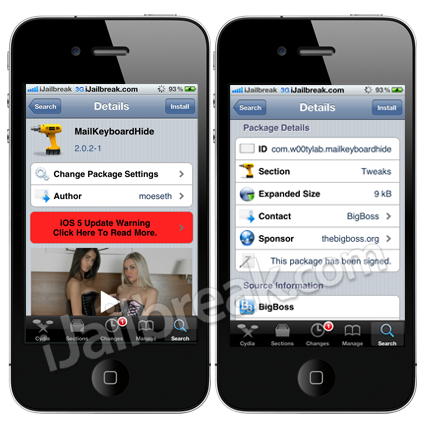 MailKeyboardHide is available through the BigBoss repo for free.
Email Safari Screenshot: Automatically Generated Screenshot When You Share A Link
The Email Safari Screenshot Cydia tweak will automatically embed a screenshot into an email when you share a link through Mobile Safari. This tweak is extremely useful if you like to send your friends website links through email. As now instead of just sending them a link, an automatically generated thumbnail of the link you are sending will be generated and embedded into the email.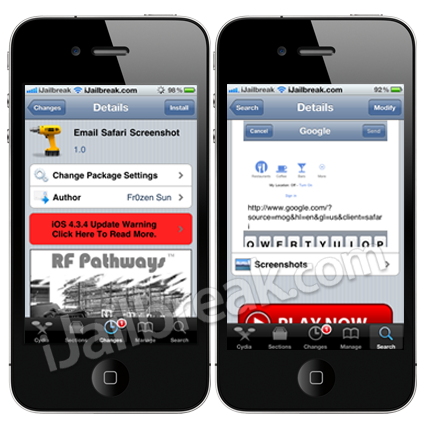 If you're interested in Email Safari Screenshot you can find it through the BigBoss repository for free.