Messages is a Cydia tweak I have been meaning to get around to all this week since it was released, but I just never had the time. Today however, I finally was able to download Messages and play around with the tweak.
Essentially what the Messages tweak does is allows you to reply to text messages or iMessages in the app you are in by bringing up the stock Messages App's interface.
Unlike BiteSMS that has a small window popup to reply to messages, Messages looks completely stock. When you first install Messages the first thing you will likely want to do is setup an Activator (or QuickDo) action so you can compose SMS/iMessages on the fly. After you setup an Activator action you can test out what the Messages interface looks like. There should really be no surprises as it looks just like when you are composing a message through the Stock Messages app.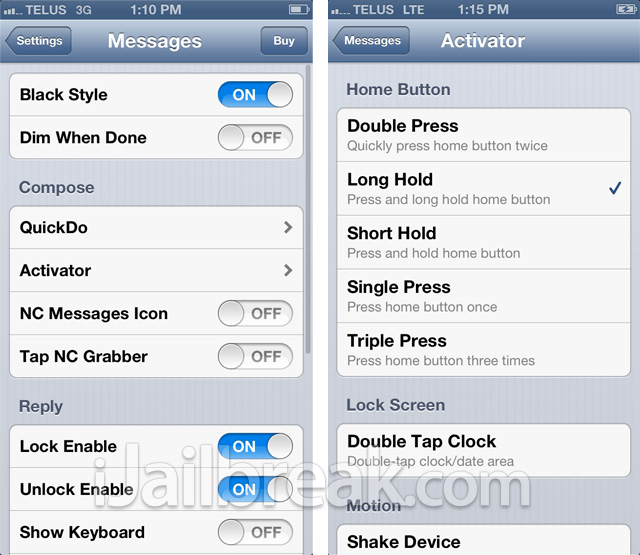 The next time you get an SMS/iMessage you can tap on the banner and it will bring up the conversation in the stock Messaging UI, but upon exiting out of the conversation you will return to whatever application you are currently in. This quick-reply functionality works anywhere in iOS, including the Lockscreen and Notification Centre.
Messages also comes with a Notification Centre widget that you can find in the Notifications tab via the Settings app that is simply a button that upon being pressed allows you to compose a message.
As for the settings Messages has, they are pretty simple and self explanatory. The main ones include the ability to change the Messages interface to Black by enabling the Black style option, the ability to show the keyboard automatically when you go to reply to a message and the amount of the conversation to show.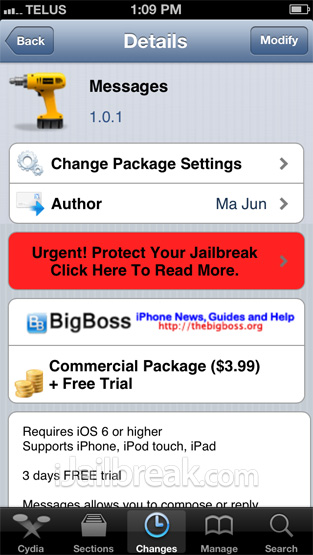 The rest of the options you can try out yourself as Messages actually is available on the BigBoss repo with a 3-day free trial. If you decide you like Messages it will cost you $3.99 to continue using it. In my opinion Messages is not a true BiteSMS competitor because it is a simple tweak, but this simplicity may be the reason you choose Messages over BiteSMS. The only place Messages really beats out BiteSMS is in stability, after playing around with all of Messages functionality, it never crashed or made me restart my SpringBoard once.
Check out our video walkthrough of Messages below and share your thoughts on the tweak in the comments section below.