Here's a new tweak for your jailbroken iPhone, iPod Touch or iPad that will help in taking down quick notes directly from your Notification Center instead of actually having to launch the Notes app. During events and while taking down notes in a hurry, one doesn't want to waste time launching the Notes app and adding a new note. Instead, just scroll down the Notification Center on iOS 5 and start typing your note.
MemoCenter is a new Cydia tweak, that as explained before, places a quick Note widget in the Notification Center for those moments when you need to take down some quick notes. Your last written note will always be there and if you want to copy it and start a new one, just hit the Copy button and paste it in the Notes app. Such tweaks come in very handy at times and that's why we like them so much.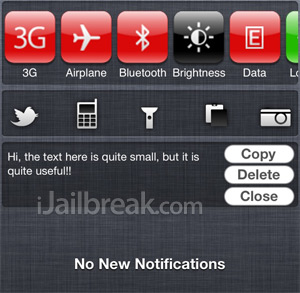 There are some things about this tweak that has to be kept in mind. The buttons are not very responsive and you cannot paste anything in the text area. Also, I couldn't get the keyboard to retract after typing the note. Anyways, it did the job!
If you want to try out the MemoCenter tweak, download it from the ModMyi repository for FREE. Tell us what you think of it in the comments section below.