If you are looking for a free way to get toggles on the lockscreen of your iOS device, then you are in for a treat!
It is without a doubt there is a ton of ways to get toggles on your iPhone, iPod Touch or iPad, but most of them involve paid Cydia tweaks. Those looking for a free solution will be glad to know that there is finally a solution and it's called LockToggle.
LockToggle provides free toggles on the lockscreen. The toggles appear just on top of the slide to unlock bar and look great. You can swipe to the right to reveal more toggles, with their being 10 in total that include: Brightness, Volume, WiFi, Bluetooth, Airplane Mode, Power Off, Respring, Rotation Lock, Do Not Disturb Mode and 3G.
There is a few problems with the tweak at the time of making this video. I have found that not all the toggles are responsive. Sometimes they work, sometimes they don't. The brightness and volume toggles work without any hiccups, but when you try to toggle WiFi for example it doesn't work. If the developer can fix the issues with some of the toggles and may add the ability to add/remove and re-organize the toggles, it would be an extraordinary tweak.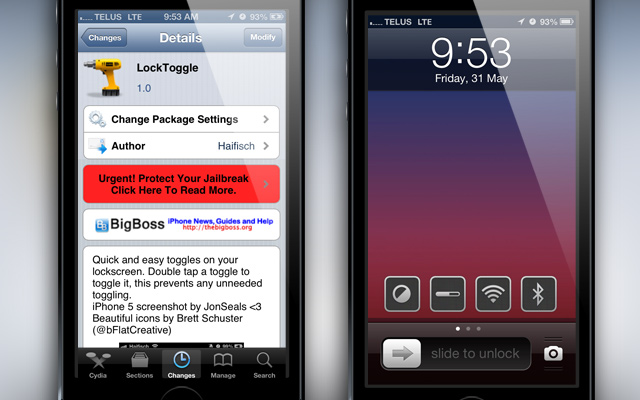 Be sure to check the tweak out for yourself and let us know how it went for you in the comments section below. It is available in the BigBoss repo for FREE and there is no settings for the tweak, but an entry will be added to your Settings app with more info about the tweak.