If you are currently Jailbroken on the official iOS 5 firmware you have a tethered Jailbreak (only old bootrom iPhone 3GS users have an untethered iOS 5 Jailbreak). A tethered Jailbreak means that if your iPhone, iPod Touch or iPad loses power (either battery dies or it crashes) you will need to plug your iDevice back into your computer and use RedSn0w to re-boot it into a usable state.
A tethered Jailbreak is never ideal. Even though the iOS 5 firmware is very stable there is always that one off time where your iPhone, iPod Touch or iPad crashes or loses power while you are away from my computer and this becomes a very big problem. You can no longer use your iDevice; even in an emergency.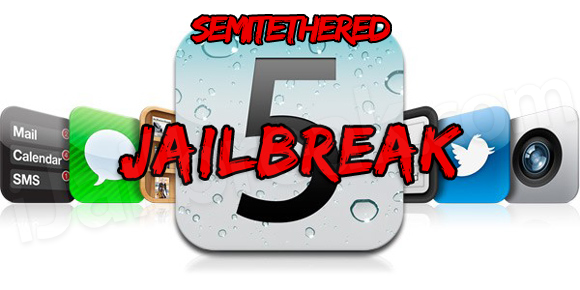 BigBoss has realized that with so many people running the iOS 5 firmware with a tethered Jailbroken. It would very much come in handy to have a Semitethered Jailbreak option available for those who cannot possibly be without their Apple device while they are away from a computer. Thus, Bigboss has developed a beta Semitethered Jailbreak package that is installed from Cydia to Jailbreak the iPhone, iPod Touch and iPad running the iOS 5 firmware Semitethered.
Note: The Semitethered iOS 5 Jailbreak is still in beta. Expect errors.
What Is A Semitethered Jailbreak?
For a lot of people the idea of a Semitethered Jailbreak is very much a new concept. A Semitethered Jailbreak means that if your iPhone, iPod Touch or iPad loses power (and it is Jailbroken tethered) it will re-boot into a semi-functioning state where you can use essential apps such as the Phone.app and SMS.app. BigBoss has put together an official list of which functions will work on your iDevice if it re-boots into a Semitethered state:
Can use phone, sms (text messages)
Can use every other stock app on iphone.
Cannot use mobile safari
Can use other appstore web browsers such as atomic web browser
Cannot use mail app. You could install a gmail app from appstore or such instead.
You cannot use any jailbreak tweak, app, cydia until you boot tethered.
While in the semitether booted state, you should not add a jailbreak ios5 notification such as sbsettings to notifications during this state or your device will be stuck in a respring loop until you get home to "boot tethered".
It is important to keep in mind that the iOS 5 Semitethered Jailbreak also carries with it the following:
The device will take longer to boot up. When you reboot, it has to reload every service. It will respring a couple times also.
According to Saurik, there are some "problems" to reloading all daemons on the fly. This is why mobile substrate installation requires "reboot device" in cydia. I have not experienced any of these problems, but I am not promising they do not exist. This is why we will need testing to see which problems may occur.
Is a Semitethered Jailbreak worth it?
In my opinion the iOS 5 semitethered Jailbreaking solution is definitely worth it if you need to have a functioning Apple device with you at all times. As BigBoss says "The good, by far, outweighs the bad for this iOS 5 semitethered Jailbreak". When you have your iPhone, iPod Touch or iPad Jailbroken on the iOS 5 firmware with a Semitethered Jailbreak you will only have these limitations laid out above if your iDevice loses power. These limitations are once again gone after you connect your iDevice to your computer and use RedSn0w to boot it into a working state.
Download iOS 5 Semitethered Jailbreak
The great news about this Semitethered Jailbreak is that you do not need to re-run a Jailbreaking tool over your existing Jailbreak. To install the iOS 5 Semitethered Jailbreak on your iPhone, iPod Touch or iPad you will simply need to add the following source through Cydia:
http://thebigboss.org/semitether
After adding the Cydia repo above you will simply need to download and install the iOS Semitethered package on your iPhone, iPod Touch or iPad.
Note #1: When you install the Semitethered Jailbreak package you will have to reboot your iDevice, so make sure you are prepared at a computer to reboot tethered with redsn0w or just "home button out" of Cydia and manually respring until you get home.
Note #2: Please email any error reports to BigBoss and use the subject: "Cydia/APT(A): semitether".
This iOS 5 Semitethered Jailbreak solution if perfect for all of those worried about not being able to use their iPhone, iPod Touch or iPad while it has a tethered Jailbreak. We will provide a How To guide for Jailbreaking your iDevice Semitethered running the iOS 5 firmware in the near future. Please share any questions or thoughts in the comments section below…