iOS 5 comes with deep Twitter integration, which for some reason is the only social network that Apple thought of including. Of course, there are apps for other social networks, but only Twitter has integrated features in the Notification Center and through iOS 5, that lets you send tweets from anywhere with ease. However, this new Cydia tweak brings Facebook, Foursquare and for some reason, MySpace integration in to iOS 5!
Fusion, a new tweak currently available in Cydia, adds Twitter like iOS 5 integration to social networks like Facebook, Foursquare and MySpace. This is a pretty cool tweak, if I must say, as it lets you quickly update your status, location and more directly from the Twitter sheet. The social networks included are plugins, thus other developers can create new plugins for new social networks, if more are coming. It also has quick composing, which means that it will not launch Facebook or Foursquare apps when updating status.
That's not it! You can even use Siri to post your status on Facebook, Twitter, MySpace by saying phrases like 'post status saying (status) or post status to (network) saying (status)'. Isn't that nice? Facebook integration in iOS 5, the way it should've been. Options can be configured in the Settings app under Fusion. A lot of users are going to find this tweak very useful, because many have been waiting for Facebook integration in iOS 5. Now, it's here!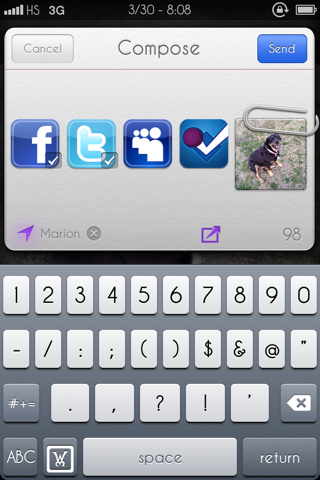 Fusion is available in the BigBoss repository for $2, which I believe is right for a tweak like this. The tweak also installs a tweak called Furi, for iPhone 4S or other iOS devices with Siri. Try it out and tell us what you think of it. Use the comments section below.