Master tweak developer Ryan Petrich has been busy lately pumping out a lot of free Cydia tweaks. Today he has released a new tweak called FullScroll and what this tweak will do is hide the navigation and toolbars when scrolling through applications.
If you use the Chrome or Facebook app on a regular basis you will realize that when scrolling the title bar of the application that contains text or buttons disappears. FullScroll brings this same functionality to every app on iOS and allows you to experience an "awesome fullscreen mode." This will give you a little bit more room to divulge in content when using certain applications and is sure useful.
When you install FullScroll you will need to head on over to the Settings app and go into the FullScroll section. From here you will see a list of every application you have installed. Choose an application (e.g. Settings) and you will see three options: Hide Title Bar, Hide Toolbar and Title Bar, or Standard iOS Scrolling. You can choose one of the options and the changes will take effect instantly. There is no need to respring.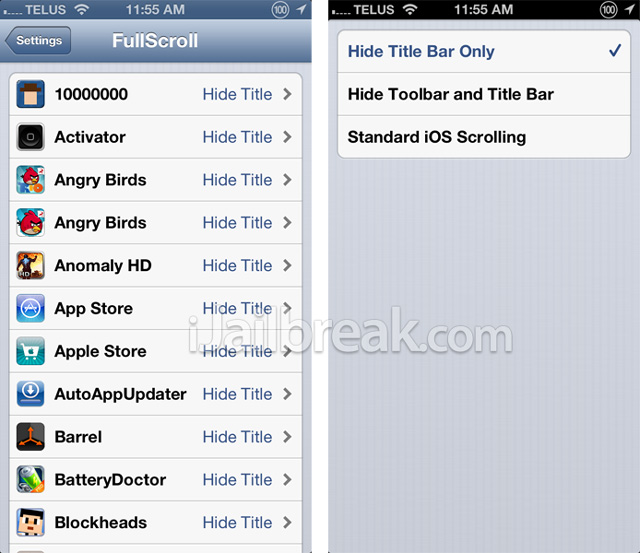 FullScroll is definitely a neat tweak and allows you to have a better experience using some applications such as when browsing the Settings app, or Tweetbot, but it does have some issues. Certain applications end up looking strange and have issues, such as the official Twitter app, at the time of writing this article.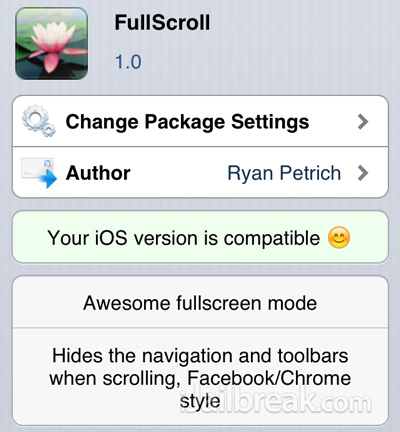 I urge you guys to try it out for yourselves though, you can find it in the BigBoss repo for free. Let us know what you think of the tweak in the comments section below.