How would you like to add some additional color to your notifications?
FlagPaint7 changes the tint color of the notification banners depending on the colors of the application icon.  The tweak is developed by HASHBANG, supports iOS 7, and has a ton of cool features that you won't want to miss out on.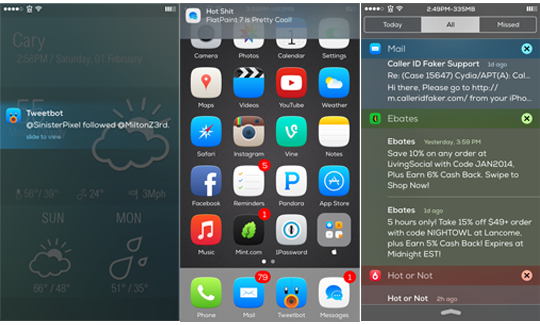 After installing FlagPaint7 head over to the Settings application where you will find its preference pane. The tweak offers options to turn on or off the tint background of banners, lock screen and notification center.
Users can choose whether or not to have a larger application icon displayed in notifications and the ability to hide or show album artwork in any music-based notifications. There are four options to select for banners such as, use a gradient, semi-transparent, round borders and a text shadow. Text shadow will not work with the TinyBar tweak. Finally, users can hide or show, the application icon, the grabber and the "Now" label in banner notifications.
TinyBar fans will be glad to know FlagPaint7 is compatible with it. It's also worth noting that FlagPaint has been around longer than Coono (a similar tweak), and Coono seems to have limited functionality. While FlagPaint7 is 99 cents, it's a free upgrade for those who already own FlagPaint. There is a lite version of FlagPaint7, but the free version does not tint the lock screen or notification center banners.
Let us know what you think of the tweak in the comments section.