The Evasion Jailbreaking software has been updated to version 0.4 today to fix some booting problems that were affecting a small userbase. This update has also been implemented in the actual Evasi0n Jailbreak software, so individuals freshly Jailbreaking will not have to worry about any issues.
Those of you who are Jailbroken on iOS 6.x with Evasi0n however, will be able to find this update through Cydia. Simply launch Cydia, go into the Changes tab and then tap the refresh button if you don't already see the update waiting for you. Updating doesn't require a reboot or even a respring surprisingly, just install the update and you are good to go.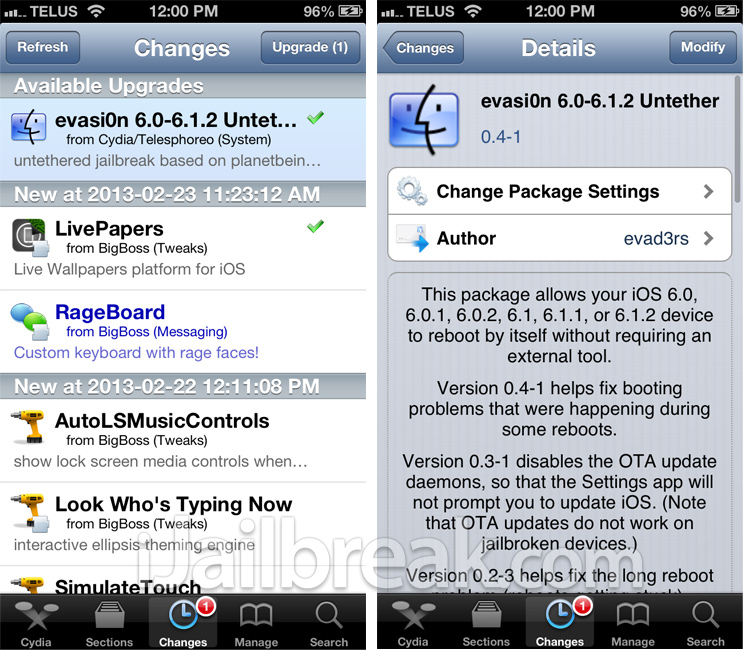 I personally haven't encountered any booting issues with Evasi0n and neither have any of the devices of friends and family I have Jailbroken, but I would be curious to know if any of our readers experienced any such issues. Let us know in the comments section if you have encountered booting issues and whether or not this update to Evasi0n has solved those troubles.
You have to hand it to the Evad3rs, they are pretty thorough when it comes to fixing any bugs, regardless whether it is a small userbase being affected.
UPDATE #1: Sure enough the desktop Evasi0n Jailbreak software was updated to version 1.5 to fix the long booting issues. You can download the latest version from the iJailbreak Downloads Section or from the direct links below.
Download Evasi0n 1.5 for Mac OS X
Download Evasi0n 1.5 for Windows
Download Evasi0n 1.5 for Linux