Hot off the heels of Evasi0n 1.0.3, the Evad3rs have released another update for Evasi0n, but this time what it includes pertains to all users not just the Retina iPad Mini. Evasi0n 1.0.4 includes important security fixes for all Jailbroken devices on iOS 7.
evasi0n7 updated to 1.0.4 at http://t.co/wblOSKyLah with important untether security fixes & (we hope) no more iPad mini Retina JB issues!

— evad3rs (@evad3rs) January 12, 2014
So does this mean you have to re-Jailbreak to get these security fixes?
Luckily not! For those of you who are already Jailbroken, which will be most, you can simply refresh your sources in Cydia and install the new update for the Evasi0n 7.x Untether package. According to the updated packages description two security issues have been fixed which were reported by the jailbreak community.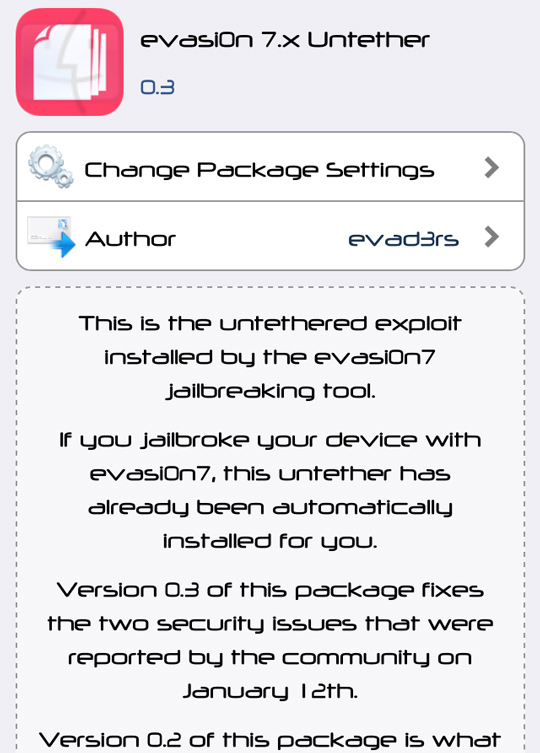 Evasi0n 1.0.4 also provides fixes for reboot loop issues for the Retina iPad Mini as apparently Evasi0n 1.0.3 didn't seem to help for all users.
You can download Evasi0n 1.0.4 from the iJailbreak Downloads Section. And as mentioned previously, the Evasi0n 7.x Untether 0.3 package can be found in Cydia by refreshing your sources.