One of the few things that disappoint me about the iPad is that Apple's flagship tablet is still, to some extent, dependent on a nearby computer and an open window of iTunes or WinSCP. Bridge is a Cydia app which makes importing files to your iPhone, iPad, or iPod Touch without a computer an easier affair. While there are many apps and tweaks that can get content on your phone, Bridge has a special feature which makes it worth the $1.99 asking price.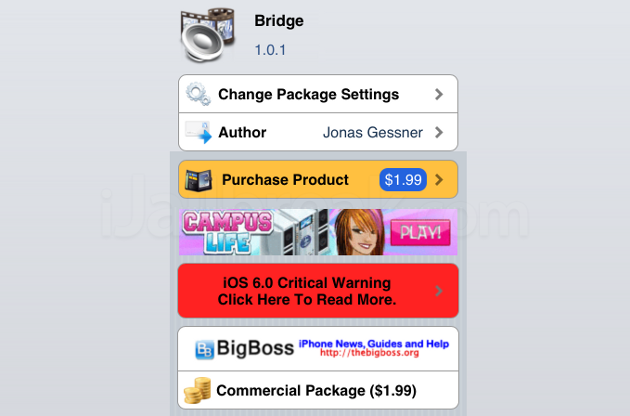 We've already covered a number of methods to download programs to an iPhone, iPad, or iPod Touch without using iTunes. Some of the free methods include OpenSSH (for secure wireless file transfers from a computer), iTransmission 2 (for torrents), and Safari Download Enabler (for downloading links and video files from the web). The problem is that while these apps and tweaks are more than capable of loading music on to your phone, they don't add the files to the Music app. This means you can't make playlists with the songs you've just loaded onto your phone.
That's where Bridge comes in. With Bridge, you can locate the files you've downloaded to your device and properly import them into your library. You can use this to load Songs, Ringtones, and Podcasts for audio files, set album artwork from your photo roll, and also import movies.
The only downside is the music won't be transferred back to your computer by syncing through iTunes. That's not a limitation of the app, but a limitation in iTunes. It wasn't built to transfer user-loaded music to your computer from an iPod. If you ever need to import music to your computer, you can use SSH to copy the music over. The files should be stored in 'var/mobile/media/music'.
Bridge can be found in the BigBoss repository on Cydia. Share your thoughts in the comments section below.