Debian Updater: Update Cydia's Package Cache On The Go
A very handy SBSettings toggle was released into Cydia a couple days ago called Debian Updater. This is a great way to become more productive with Cydia;  as while this toggle is enabled you can updat your Cydia Packages database reflecting your newest sources.list file. Meaning that you can refresh your Cydia source list everywhere (on SpringBoard or lockscreen, or whithin any app), without even launching Cydia app.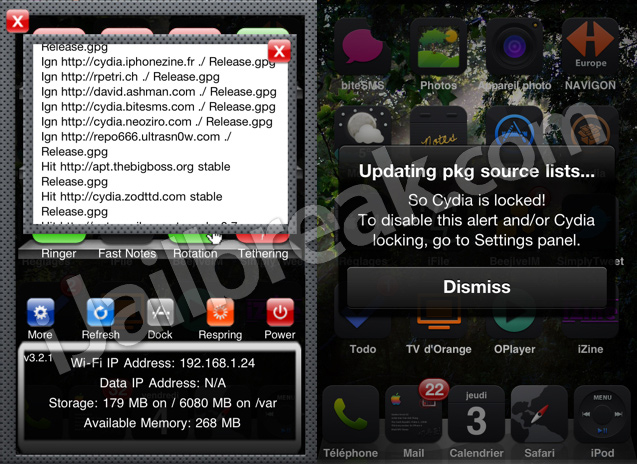 If you are interested in increasing your productivity with Cydia then you should definitely consider installing this free SBSettings toggle to your iDevice. As the DebianUpdater toggle  is actually available for free, through Cydia!
Features of Debian Updater:
Toggle ON = you can refresh the list of your pkg sources.
Toggle OFF = pkg source list is updating, but you can cancel it.
An icon appears on the statusbar when a source list update is in progress.
Notification badge for new packages to upgrade.
Launching Cydia app is locked when updating your sources, to avoid conflicts.
Options can be set in Settings panel.
Let us know if you would use this SBSettings toggle…
Keep Text New: Save Any Text Messages As New
Keep Text New is a new tweak that was released into Cydia that is pretty self explanatory. This tweak overrides the default SMS functionality where hitting the close button when inside of an application causes the SMS  message to become marked as read. Which can become a problem if you become side tracked and simply return to your application without first checking your SMS message; this can cause you to forget about this now "read" SMS message.
It solves this problem by keeping any text message you want as new. It's very simple: when you get a text message alert there will be 2 little KTN icons on the top left and right of the alert, you just click one of the buttons to keep your text message as new, then hit 'close' to remove the alert. So when you go back to your springboard you will notices the little notification badge reminding you of that message so you don't forget about it.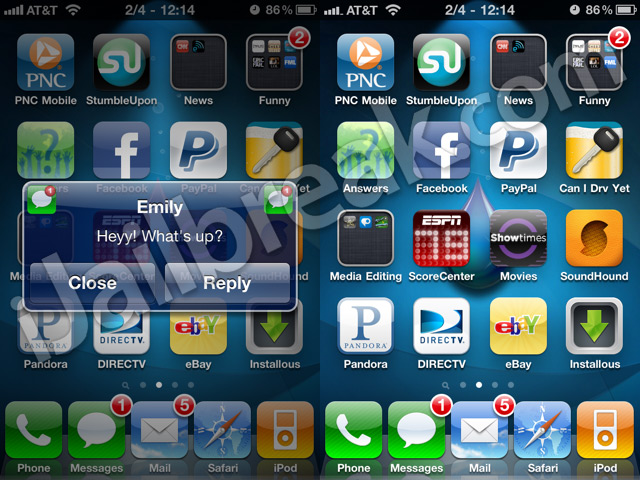 If this tweak sounds like one that would be useful to you, then you can find it through the Cydia store for a price of $1.25.
QuickSnap: Quickly Take A Picture Without Saving it
Now you may be wondering to yourself, why would you want a tweak that allows you to take a picture without actually saving it? Well the answer is pretty simple! Having the ability to take a picture without saving it directly to your iDevice is a very handy feature to have if you just want to remember some information. A good example would be if you have to remember a long number that you will need shortly. However, the number is too big to just "memorize", so what will you do? You will use QuickSnap of course. A new tweak that was just released into Cydia that provides just this functionality.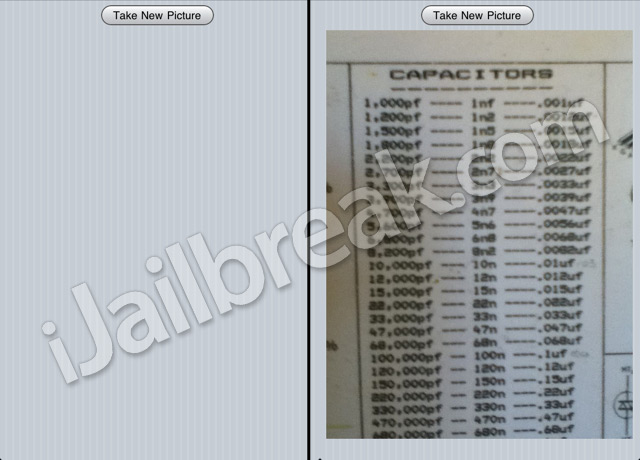 If this tweak sounds like it would be some use to you, then you can find it through Cydia for free.
Switcher Rotator: View The Switcher Bar While In Portrait Or Landscape Mode
Another new tweak that is new to Cydia is called Switcher Rotator. This tweak is a pretty handy and allows you to see the multitasking switcher bar regardless of whether you are in portrait or landscape orientation. This new switcher bar tweak also allows you to lock your iDevice's orientation to landscape mode. It works with many popular app switcher tweaks such as SwitcherMod, SwitcherPlus, SBSwitcher, and more. This truly is a great tweak if you have ever wished you could be able to view the multitasking switcher bar while, for example, viewing coverflow.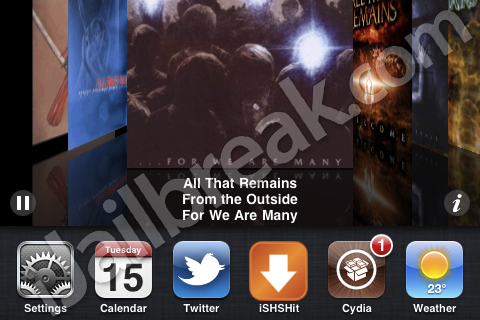 If you think having the functionality to view the switcher bar while in landscape orientation would be great to have on your iDevice. You can find Switcher Rotator in the Cydia store for a price of $0.99.