iOS 5's Twitter integration is somewhat underwhelming by default. It allows you to send tweets with attachments within apps, but it doesn't provide a quick way of sharing an unaccompanied tweet. What if you have something you need to share quickly? Dashtweet is a Dashboard X widget which places a Twitter bar on your home screen, like the widgets available on Android phones. With Dashtweet a post to Twitter is only a press of the home button away.
Dashtweet uses iOS 5's integrated Twitter settings, so there's no need to log in. The bar takes up the same amount of space as a line of tiles on the iPhone and doesn't look out of place with Apple's default theme. Dashtweet does keep a character counter beside your text, so you don't go over the 140 character limit – but if you do, it natively supports Pastie for longer Tweets.
Dashtweet is a FREE widget and is available in the BigBoss repository on Cydia, but requires Dashboard X ($1.99) and OS 5's Twitter integration. Along with "Clock Widget" this is one of the first add-on widgets available for Dashboard X. Dashtweet provides more utility than most of the other widgets, and is a must have tweak for anyone who has Dashboard X installed and posts often to Twitter.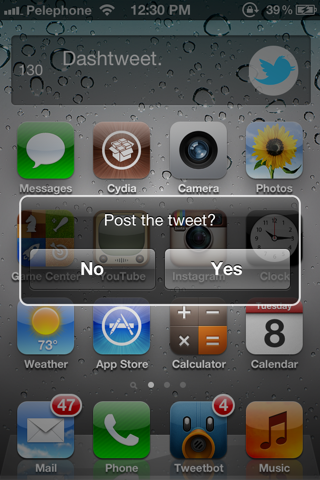 Would you prefer to be able to tweet from the home screen than through apps? Or would you prefer to have the extra 4 icons in SpringBoard real estate? Let us know what you think of Dashtweet in the comments section below. (Bonus points if your response is 140 characters or less!)