Wouldn't it be great if you could get Cydia updates pushed to your iOS device using Apple's built in notification system? Well, the well-know Cydia tweak developer Ryan Petrich definitely thought so because he is currently working on a tweak to do just this! His upcoming tweak is called Curiosa and is currently available in his beta repository.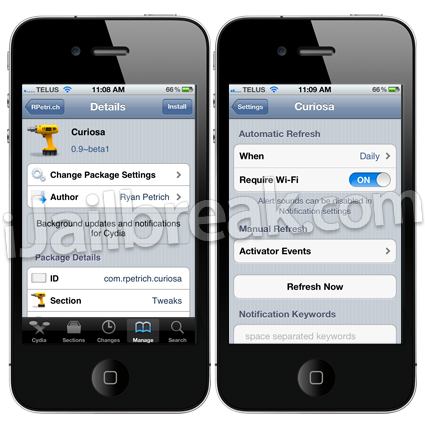 Upon installing the Curiosa Cydia tweak you can find its configurable options through the Settings.app. The available settings are pretty straight forward, allowing you to choose how often Curiosa checks for updates, whether or not you want Curiosa to only check for updates when you are connected to WiFi and of course a configurable manual refresh activator action.
If you would like to try out Curiosa beta then you will need to add Ryan Petrich's beta repository that is shown in the quoted area below. This can be down by going into the manage tab via Cydia, tapping the sources section, followed by the edit and add button.
http://rpetri.ch/repo/
We will let you know when Curiosa is official released. Until that time please stay tuned and leave any questions or thoughts in the comments section below…