Couria is a new Cydia tweak that essentially is a light weight version of BiteSMS which brings quick reply and quick compose functionality to the stock Messages app. You are able to quick reply to messages by tapping a banner notification or by swiping a notification on the lockscreen where a sleek overlay that shows the contents of the message and a quick reply box will appear with a send button. You are also able to assign an Activator gesture to bring up Couria's quick compose feature. One neat feature of Couria is the ability to set an independent passcode lock from the lockscreen passcode for security.
Couria isn't without some gripes and certainly isn't as polished as BiteSMS, but it is shaping up to be a great tweak considering it is still in beta. And because it is still in beta you can swipe the tweak for free. Just head on over to Manage > Sources > Edit > Add > and type the following repo address: http://Cydia.Qusic.me. There is also extensions available for WhatsApp and Tweetbot.
SwitcherBlur is pretty self explanatory from its name. What this tweak does is add a Gaussian blur effect to all the app cards except the app that you just came from. This is a great privacy feature so that onlookers won't be able to make out the contents of each opened app and is a neat effect overall. Although this tweak won't appeal to everyone I am sure there are some people out there that will appreciate the added privacy SwitcherBlur brings about.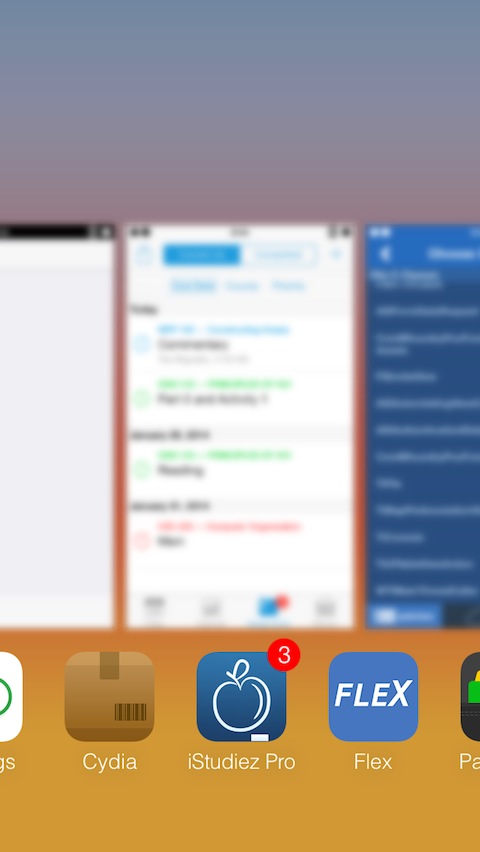 You can find the tweak in the BigBoss repo for free.
Lastly we have an update for WinterBoard, bringing the theming engine to version 0.9.3915. This particular update for WinterBoard will fix the status bar caching issue which was forcing the status bar to appear in apps where it should disappear and also not allowing the status bar to dynamically change color.
The changelog for Winterboard 0.9.3915 is as follows:
Cydget: Solve Webkit Transforms
Correct Install Path of Optimizer
7.x: Fix Calendar Icon Text Styling
7.x Clear New Status Bar Cache
You will be able to find the update in Cydia's Changes tab by refreshing your sources.