For nearly two weeks now the beta of BiteSMS 8.0 has been available to download, but up until this point it has not been compatible with 64-bit devices. If you have been disappointed by this fact you will be glad to know that it has finally been updated to beta 7 to support ARM64 and also fix a handful of bugs, along with user interface improvements.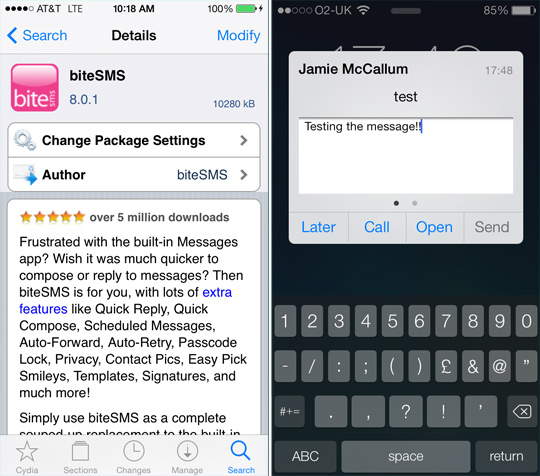 For those of you who haven't heard of BiteSMS before, it is a tweak that extends the stock Messaging app to include new features like: quick compose, quick reply, scheduled messages, passcode lock, quick access to emojis, signatures, auto-forward, auto-retry and much more.
Although you can find BiteSMS 8.0 within the BigBoss repo it is recommended you add the private testing repo: http://test-cydia.bitesms.com and install it from there until it comes out of beta.
Let us know if this beta of BiteSMS 8.0 is more stable and how you are enjoying it on your iPhone 5s in the comments section below.