Chrome for iOS has received a lot of positive reviews and it's certainly better than the stock Safari browser. There are tweaks out there that make Chrome an even better browser, with more options to customize it like BetterChrome and Open In Chrome. If you remember back to the middle of July a teak called Chrome Download Enabler was released that let you download files from the browser as well, unfortunately however, it wasn't that great. You could download files, but there was no proper file management or advanced features.
Now, Chrome Download Manager, wants to be the only download manager you will ever need for Chrome on iOS and it looks like it could be. This tweak has everything you will ever need with a download manager and it works, well, most of the time. Version 1.0 does have some bugs and makes the Chrome browser run slow, but it makes up with its features. Chrome Download Manager has a nice user interface that shows up every time there's something to download in a page, and allows you to start downloading it right away. The download files are stored in var/mobile/Media/Downloads and can be accessed via iFile. Downloaded files can also be opened in various other apps such as Dropbox or GoDocs and you can even attach downloaded files to emails.
The best part about this tweak is its vast support for file types. There are dozens of file types that you can download using this tweak. For example, .pdf, .xls, .key, .pages, .ppt, .html, .css, .txt, .mov, .plist, .vcf, .swf, .xml, .php, .png, .zip, .rar, .iso, .dmg, .ipsw, .deb, .torrent, .mp3, .jpg, .avi and .doc are just some of them. And more will be added soon! Plus, the tweak has notification support integration, which means that you'll be notified when a queued download starts and when its completed.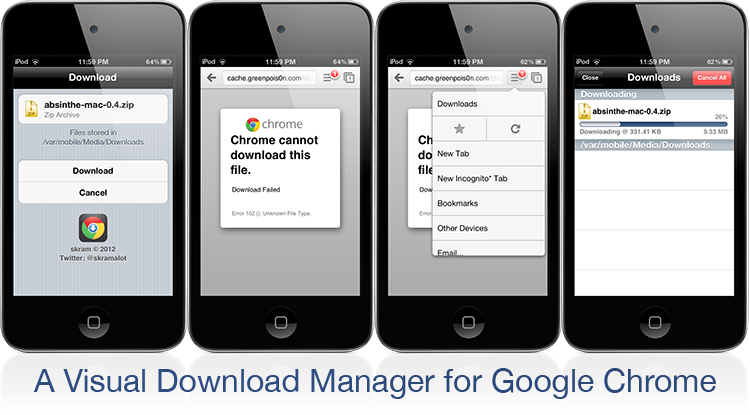 As mentioned previously, there are bugs that can be annoying, but hopefully they'll be fixed in a future update. Overall Chrome Download Enabler is a great tweak and it is much better than Chrome Download Enabler. The developer is currently selling the tweak (iPhone, iPod Touch, iPad compatible) for a special price of $3.00 via the ModMyi repo, which includes free future updates. We are not sure what the normal pricing will be, So grab it at that price while you can!