We have some exciting news on the Jailbreaking front!
CocoaNuts have released Celeste 2 into Cydia for devices Jailbroken on iOS 6.x that brings a ton of improvements over the first version of the tweak. The original Celeste Cydia tweak without a doubt was one of the most popular tweaks of all time despite being buggy and complicated to use.
For those of you who haven't heard of Celeste before it is a tweak that brings Bluetooth file sharing to iOS. As you probably already know in iOS 7 Apple has brought about Bluetooth file sharing, but it is severely limited. You can't, for example, send and receive files from your Mac or any other smartphone.
With Celeste, however, you can send and receive files from almost any device that includes other smartphones, your Mac, Windows computer etc. And now with Celeste 2 all of this becomes much easier because unlike the original version of the tweak, Celeste 2 just works.
Celeste 2 Cydia Tweak Review
After installing Celeste 2 you will notice an app icon for the tweak on your homescreen. Upon launching the Celeste 2 app you will find configurable options that include: Show app on receive and Import with Gremlin.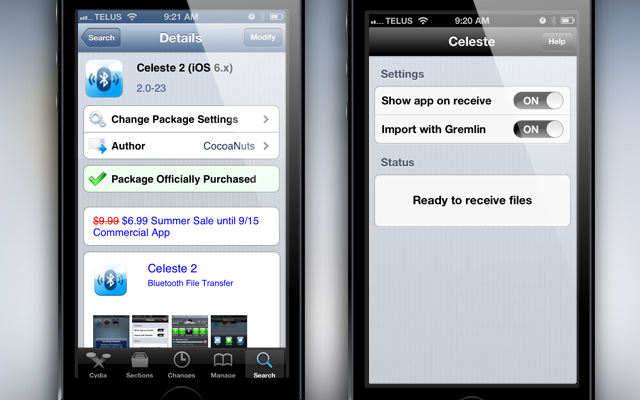 The Show app on receive option will make it so the Celeste app always opens on incoming file transfers. This is very user friendly because you will be shown a percentage status while the transfer is in progress.
When it comes to Import with Gremlin this is where things become a little bit more complicated and in some cases buggy. By default if you don't have Import with Gremlin enabled files will be stored in the following directory: /var/mobile/Received/
That means it will only be accessibly with a file browsing application like iFile. With Gremlin enabled, however, files will try to be automatically imported into their respective apps.
At this point in time Import with Gremlin does have some issues that involve certain files not importing correctly, files still being imported even with the toggle off and a few other stability problems.
CocoaNuts have stated they will be looking into these issues though and will fix them in an upcoming update.
Despite these initial hiccups with Gremlin Celeste 2 works very well and the stock integration with a variety of apps in the sharing menu is very convenient. You will find a Send with Celeste button in the following apps: Photos, Notes, iPod/Music, iBooks, Ringtones, Contacts, Voice Memos, Safari, Dropbox and DisplayRecorder.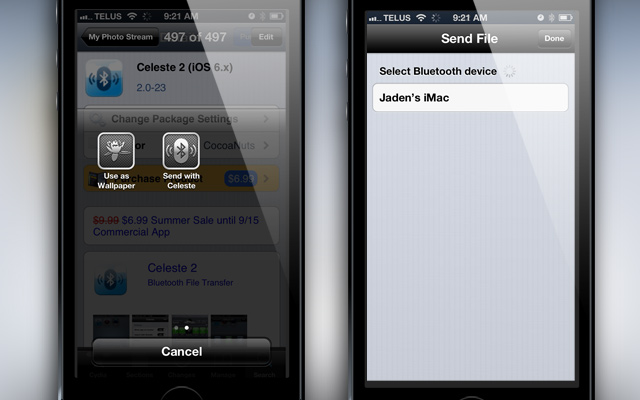 Yet another pro with Celeste 2 is that it is built upon the iOS Bluetooth stack, which means you will be able to still stream music over Bluetooth while sharing files. This is a big deal for those that stream music quite heavily.
There are indeed other option when it comes to Bluetooth file sharing on iOS like AirBlue Sharing, but Celeste 2 is without a fierce competitor… if not the best Bluetooth file sharing tweak we have seen yet.
If you are interested in Celeste 2 you can find it right now in the BigBoss repo for $6.99. The price of the tweak will go back up to its full price of $9.99 on September 15th, 2013 so get it discounted while you can.
P.S. If you owned the previous version of Celeste you will be able to upgrade to Celeste 2 for free as well.