Apple has always limited the Bluetooth functionality on its devices to a great extent. If you're an iPhone, iPod Touch or iPad user, you know what I'm talking about. There's no way to send files from your iDevice to other devices via Bluetooth, you can only communicate with iDevices. That's a big restraint that users have to face on a daily basis.
There are solutions available in Cydia, such as Celeste, but the package costs about $10 and isn't very reliable. AirBlue Sharing is a Cydia tweak, that does all that Celeste does, but for a cheaper price while promising 100 percent compatibility with any device.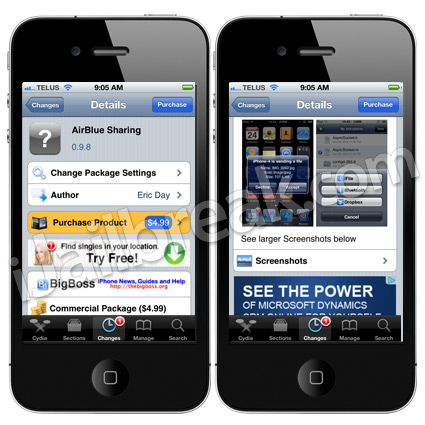 The AirBlue Sharing Cydia tweak works on any jailbroken device that's running an iOS version from 4.2 to 5.0.1 and doesn't require any kind of configuration. When transferring files, you will get speeds of up to 1.7 MB/s and will be able to transfer to any Bluetooth enabled device as long as the file supports "Open In…".
Are you tired of telling your friends that you can't transfer files via Bluetooth?  Well, if you are, then you can download AirBlue Sharing from the BigBoss repo for a price of $4.99. Let us know how the AirBlue Sharing Cydia tweak worked out for you in the comments.