iJailbreak has recently written reviews on tweaks such as, BlurredMusicApp and Spectral. Both tweaks blur the background of the Album Art work within the stock Music application or the lock screen, which mimic's the nice user interface of the Remote application in iOS 7.
If you would like to continue this aesthetic change to the Camera application, providing a consistent look throughout iOS 7, then look no further than a free tweak called CamBlur7.
CamBlur7 is developed by Poomsmart and will alter the black border within the Camera application to a transparent blur. Personally, I feel like the effect makes the user feel a little more apart of the Camera application and not so confined.
CamBlur7 from the BigBoss repository will install two jailbreak tweaks (CamBlur7 and TransparentCameraBar). Both the tweaks provide exactly what the tweak is titled, but CamBlur7 piggybacks off of TransparentCameraBar. In order to use CamBlur7, users will need to head over to the TransParentBar preference pane found in the stock Settings application and turn on the "Enabled" switch.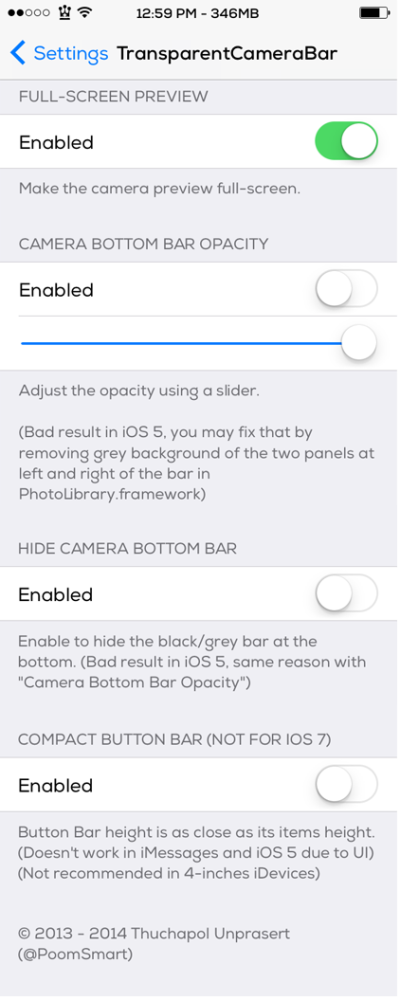 After you enable TransparentCameraBar you can head over to CamBlur7's preference pane, also located in the stock Settings application.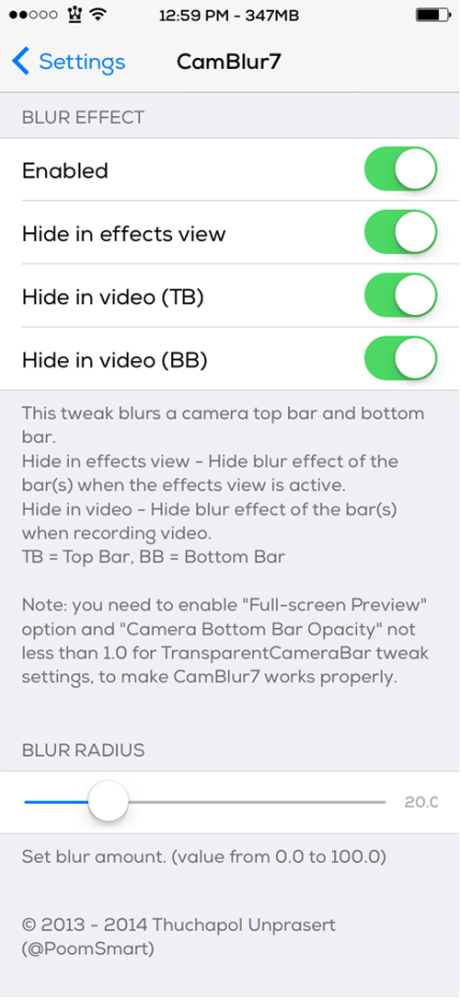 In the CamBlur7's preference pane users will find out they can enable or disable the blur effect within the Camera application, with a few other options, such as; the ability to change the blur radius, hide the blur effect of the bars when recording video (top and bottom), and hide the blur effect when you are in the camera effects view.
Users will notice that the blur effect within the stock Camera application is live whenever you are moving the camera around. Enjoy setting the blur effects to your liking for the Camera application using CamBlur7's options. It's another tweak that provides an elegant touch to a stock application's user interface.
Dont forget the tweak is free, compatible with both 32-bit and 64-bit devices. Let us know what you think of the tweak in the comments section.