Unfortunately Apple's latest iOS 5.1 firmware update broke the popular software unlocking solution UltraSn0w. This means that although you can Jailbreak the iOS 5.1 firmware, those who upgraded their unlocked iPhone will not be able to connect to their unofficial network. Now for most people this is not a problem because very few people have actually upgrade to the iOS 5.1 firmware who are Jailbroken/Unlocked. If you fit the category of those who did upgrade however, and are looking for a solution to unlocking your iPhone on iOS 5.1 you will be glad to know the hacker zmaster has developed UltraSn0w Fixer.
What UltraSn0w Fixer does is it allows you to unlock your iPhone 4 or iPhone 3Gs running iOS 5.1 on the following basebands 01.59.00, 04.26.08, 05.11.07, 05.13.01, 05.12.01, 06.15.00. You must also obviously be Jailbroken tethered on the iOS 5.1 firmware using a Jailbreaking tool like RedSn0w or Sn0wBreeze. Thus, in this how to guide from iJailbreak.com you will learn how to unlock your iPhone 4 or iPhone 3GS on the iOS 5.1 firmware with UltraSn0w Fixer.
Note: You can check to see what baseband your iPhone currently is running by launching the Settings.app, going into the General tab, then the About tab and looking at the Modem Firmware field.
How To Unlock iPhone On iOS 5.1
Step 1) – The first thing you will need to do is Jailbreak your iPhone on the iOS 5.1 firmware by visiting iJailbreak's How To Jailbreak Section.
Step 2) – Now you will need to launch Cydia so we can add the 3rd party repository UltraSn0w Fixer is hosted in. When Cydia is up and running go into the Manage tab, Sources section, tap the edit button and then the add button and add the following source:
http://repo.iparelhos.com
Step 3) – With the source successfully added you will need to simply go into the search tab and search for UltraSn0w Fixer.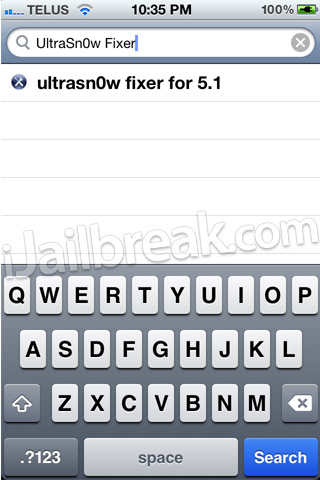 Once you see UltraSn0w Fixer simply install it to your iPhone.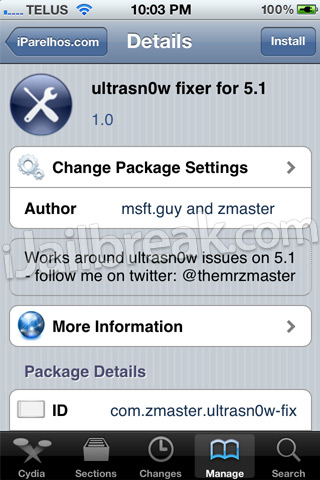 Step 4) – When UltraSn0w Fixer has been installed simply go back into the Search tab and search for UltraSn0w.
After you have searched for it and see it, install it to your iPhone also and reboot.
Congratulations! You have just unlocked your iPhone 4 or iPhone 3GS running the iOS 5.1 firmware with UltraSn0w Fixer. Please leave any further questions or thoughts in the comments section below…