It is no doubt that the ability to access the web is why so many people choose to use Smartphones. In fact, I think 70% of the time, I use my iPhone is to either check my email or rss feeds. With being so reliant on the iPhone for accessing the internet, it is important to have a browser that is functional, yet easy to use.
Mobile Safari (the iPhone's default browser), is great in a lot of ways, however it lacks a lot of core functionality such as MultiTouch Gestures, Shortcuts and FullScreen browsing. This is why, when I heard about a new jailbreak tweak called FullScreen For Safari, I was immediately hooked. FullScreen For Safari (as the title suggests), allows you to use Safari in a Full Screen Orientation, while also allowing you to set multi-touch gestures for common actions such as opening a new tab.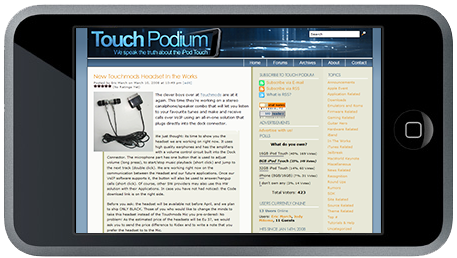 FullScreen For Safari allows you to set gestures for just about any mobile Safari action, and is extremely easy to configure. Gestures can include anything from shaking the iPhone to sliding your finger across the screen. If you find yourself using the internet on your iPhone as much as me, you will definitely benefit from FullScreen For Safari. If you are interested in this new tweak it is available for $1.49 in the Cydia Store!

Update #1: FullScreen Safari Has Been Released for the iPad [Multitouch Gestures and More!]
Today a new tweak for the iPad was released called FullScreen for the iPad! If you have heard of FullScreen for Safari, this tweak is simply the iPad alternative to that tweak; it functions the exact same way. If you have not head of the FullScreen for Safari tweak, what this tweak does, is enables a true fullscreen safari browsing experience on your iDevice.
Besides adding fullscreen browsing however, this tweak also makes Safari a real multitouch browser. Adding configurable gestures like two and three finger swipes, three finger tab, shake and much more. FullScreen safari was a great tweak for the iPodTouch and iPhone, but it will be an even better tweak for the iPad.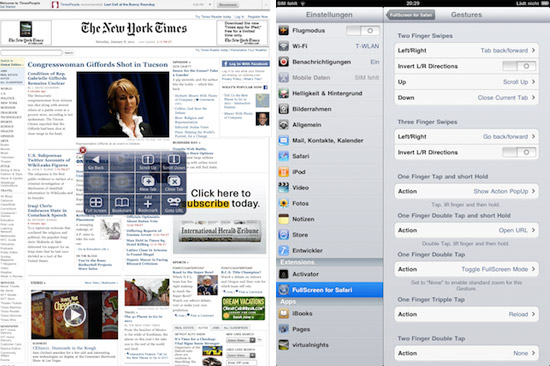 If you are interested in this new tweak for the iPad, it is available through the Cydia Store for a price of $1.99. What are your thoughts on FullScreen for the iPad?